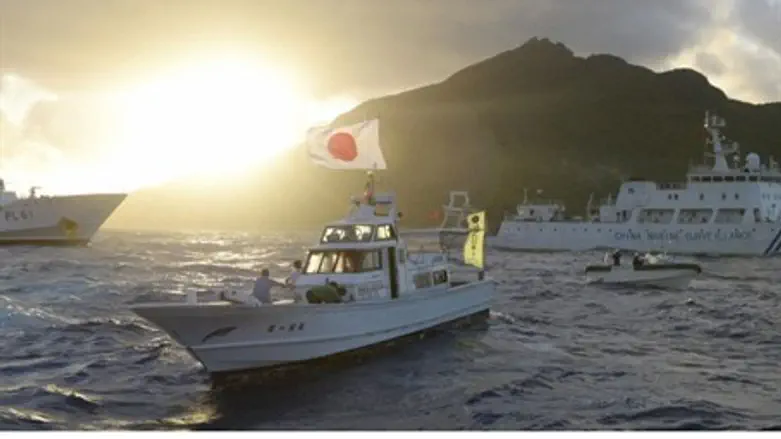 Japanese and Chinese vessels face off at Senk
Reuters
US Vice President Joe Biden arrived in Tokyo Monday for a week-long trip in Asia to try and calm the recent flare-up in the East China Sea, reports CNN.
Also on Monday, Japanese Defense Minister Itsunori Onodera met with the British Royal Navy's Chief of Staff, Admiral George Zambellas. The two agreed on a coordinated response to the standoff over China's recently declared "air-defense identification zone" in the East China Sea, according to Sankei News.
Tensions have been high over the standoff which has numerous world powers facing off. US, Japanese and South Korean planes have challenged the newly declared "zone," and the US and Japan are holding a joint naval exercise in the region.
An escalation occured Friday when China followed through on its threats to scramble fighter jets to monitor 2 US reconnaissance aircraft and 10 Japanese reconnaissance and fighter planes flying through China's "zone," reports The Guardian. Previous flights through the area had gone without a Chinese response.
The "zone" is particularly sensitive as it includes a disputed island chain rich in natural resources which is under Japanese control. The islands are called Senkaku in Japan, Diaoyu in China.
In the meeting with the British Naval Chief of Staff, Onodera said "changes pushed by unilateral force can not be allowed," reports the Japanese Yomiuri Shimbun.
In response, Admiral Zambellas expressed support for Japan, saying "England and Japan are important partners." He added "we well understand the issues Japan is facing in this region. A solution should be reached through international law and discussion."
Meanwhile on Friday, US President Barack Obama's administration showed a more conciliatory stance after initial harsh criticism of China's "zone."
The US administration told commercial airlines to conform with China's demand to submit flight plans, to which American and Delta airlines have confirmed they will do so, reports The Guardian. The US added the move did "not indicate US government acceptance of China's requirements."
Tensions are very high in the region, particularly in light of North Korea's recent efforts to restart its Yongbyon nuclear reactor. The reactor was destroyed in 2008 to build confidence in talks with South Korea, China, the US, Japan, and Russia.
North Korea, which is highly dependent on its communist ally China, reportedly announced in April that Tokyo would be its first target if it decides to use nuclear weapons. In response Japan deployed PAC-3 missile interceptor units around its capital, reports Fox News.