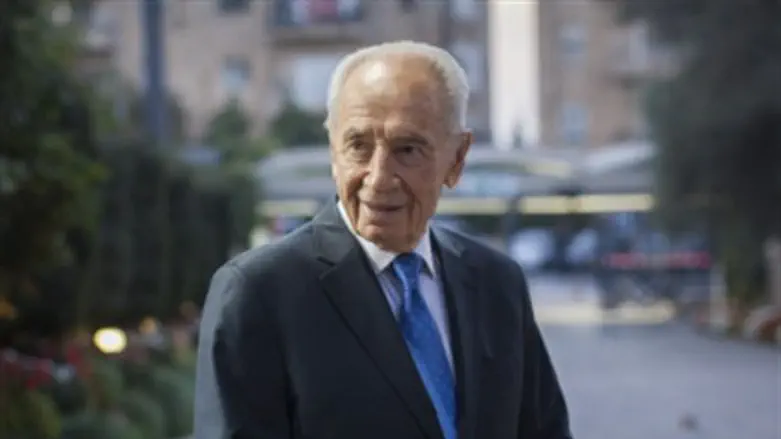 President Shimon Peres
Flash 90
President Shimon Peres, who is currently visiting Mexico, has declared that he will end his term next Summer.
"I'm finishing my term in July according to the law. If Members of Knesset try to extend my term, I will object to any such initiative," Peres told Yediot Aharonot.
"You need to know how to start, and when to finish," he said.
"Part of the beauty of serving the public is upholding the Basic Laws of Israel, and knowing that the presidency is for seven years," Peres added.
The 90-year-old leader revealed that he does not plan to continue in politics. However, he said, he will remain active in the Peres Center for Peace.
There were reports in early November that either Peres or his supporters were seeking a legal way to extend his term. Other reports said Peres would step down as President, but would return to Knesset, possibly under the auspices of a new political faction.
Peres' first term in Knesset began in 1959, and he continued serving in Knesset until 2007, when he was elected as President. He has held several senior ministerial posts over the years, including the position of Prime Minister on two occasions and interrim Prime Minister once.
Peres also discussed the recent deal between Iran and western powers. He expressed regret that troubles other than Iran's nuclear program were being overlooked, explaining, "Nobody is looking at the poverty, the awful dictatorship where people are being hanged without trial."
Regarding America's role in the deal, Peres said, "Obama has said at every opportunity that he will not allow Iran to gain a nuclear weapon. If the diplomatic experiment we saw in Geneva fails – he will undoubtedly need to put his declarations regarding a military option into effect."
"I trust his word," Peres concluded.