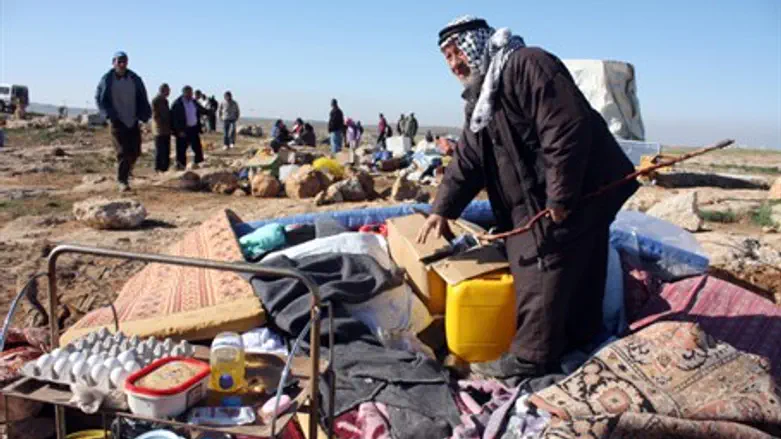 Arab encampment in Susiya
Israel news photo: Flash 90
A legal battle over a historic site in the Hevron Hills continues, with Israeli far-left groups joining the Palestinian Authority in accusing Israel of "forced displacement" of Arab villagers in Susiya. They have won support from several international left-wing groups and media outlets as well.
The problem: the "Palestinian village" that Israel is supposedly uprooting never existed.
Tzviki Bar-Hai, the head of the Har Hevron regional council, explained the issue in an interview with Arutz Sheva. Bar-Hai has seen the development of the archaeological site at Susiya – which is home to the remains of an ancient Jewish village - from day one.
Not only did "Palestinian Susiya" not exist in the 1800s, as has been claimed by the far-left group B'Tselem, but it did not even exist in the 1980s, he reported.
"I was there in 1976, and aside from the synagogue that was built here in 1969, there wasn't a living soul," he recalled. "We were able to restart the archaeological digs in 1983, and then, too, there were no Palestinians around."
In 1986, Arab farmers began to visit the area, he said, but they came only at certain times of year, and never stayed for longer than one or two nights.
Those who now claim to be residents of Susiya are actually from the nearby Arab town of Yatta, he said. "In recent years a few Arab families from Yatta are trying to settle near ancient Susiya and to argue that they were expelled from the village of Susiya – which never existed," he said.
"They are all from Yatta. They are supported by leftist activists, who come on weekends to help create the narrative of expulsion," he continued.
In contrast, there are modern-day Arab towns in the area built over ancient Jewish towns, he noted. One example is Samoa, which was built on the ruins of ancient Eshtamoa.
"But here in Susiya, in both ancient and modern times there was not a single Palestinian. The claims to the contrary are simply lies," he concluded.
Bar-Hai expressed hope that the Supreme Court will rule to expel those squatting at the historic site.
Bar-Hai's report is supported by testimony from other activists, who note that aerial photographs of Susiya show that the land was previously unsettled.
Israelis living in the Hevron region have accused leftist visitors to Susiya of deliberately sabotaging Jewish settlement in the area.