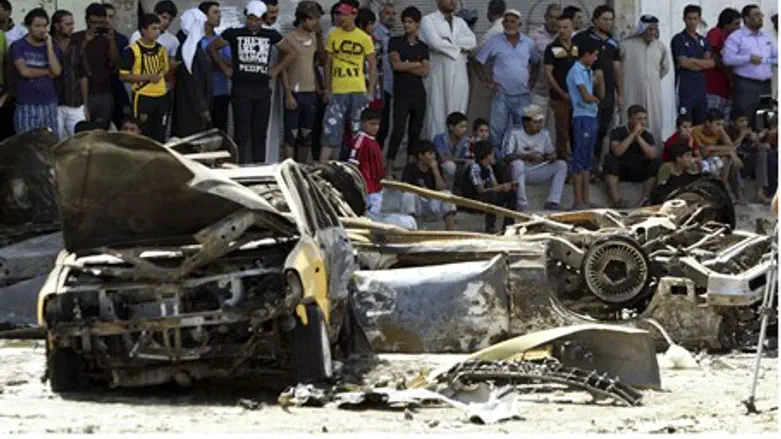 Illustration: Site of Al Qaeda bomb attack in
Reuters
Iraq's bloody path to a sectarian war continues, as Iraqi police found the bodies of 18 men who were kidnapped from their homes and killed execution-style, NDTV reports Friday. 
The corpses were found grouped together and shot in the head in Meshahda, a predominantly Sunni Muslim area, around 32 km (20 miles) north of Baghdad, police and a source at the capital's morgue said.
The victims were taken from their homes early on Friday by men wearing military uniforms and driving approximately six SUVs, the sources said. It was not clear who was behind the attack, but this area of Iraq has seen frequent abductions by terrorists dressed as soldiers. 
The men's families went to local police to report their relatives missing and police later found their bodies in an orchard.
BBC reports that at least one of the men reported dead is an army officer. 
It was the deadliest in a series of execution-style killings which are on the rise in Iraq. 13 additional people killed under similar circumstances were found across Baghdad Wednesday, CNN reports.
In that attack, Iraqi security forces found eight of the bodies in the Arab Jabour district, a Sunni enclave; 5 other bodies turned up in the Shiite area of al-Shulaa.
Bombs and terror attacks have become commonplace in Iraq, where tensions between Sunni and Shi'ite Muslims have mushroomed, especially in Iraqi capital Baghdad. On Thursday, 11 car bombs killed at least 31, and targeted crowded civilian areas all over the country.  
According to NDTV, 2013 has been Iraq's most violent since 2006-7, when tens of thousands of people died at the height of sectarian strife between Sunnis and Shi'ites. 
BBC notes that according to the United Nations, 979 people - including 158 police and 127 military personnel - were killed in violent attacks in October alone. More than 6,500 civilians have died since January, the highest annual toll since 2008.
The UN has called on Iraq's political leaders to end the bloodshed, which has escalated since a disastrous army raid on a Sunni anti-government protest camp earlier this year.
The protesters had called for the resignation of Shia Prime Minister Nouri Maliki, who they accused of targeting the minority Sunni community.
Analysts claim that some of the Iraqi violence may also be linked to Syria, which has become an all-out Islamic holy war between Sunni and Shi'ite factions.