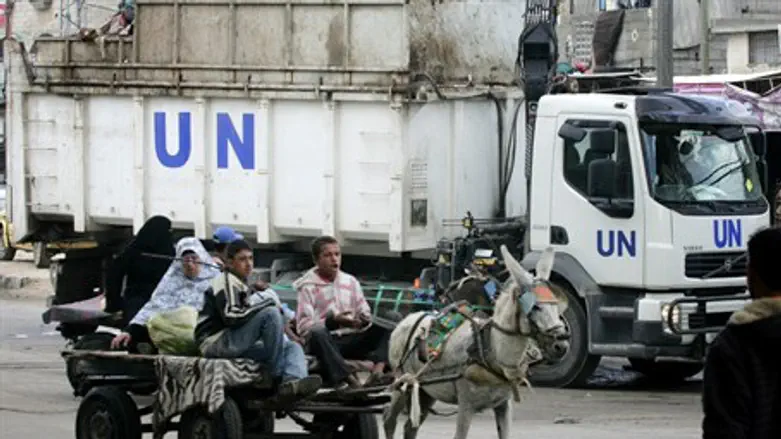 Donkey-drawn cart in Gaza
Flash 90
On Thursday the UN started distributing fuel in Gaza to maintain operations of critical facilities amid fears of a health crisis due to gathering garbage and sewage. Hamas blames the crisis on Egypt's destruction of cross-border tunnels used for smuggling fuel into Gaza.
Robert Serry, UN Middle East special coordinator, said Thursday that fuel "purchased by UNRWA (UN Relief and Works Agency) and distributed by the UN" is coming in through the Kerem Shalom crossing from Israel.
Serry added that while the amount "doesn't resolve the fuel crisis in Gaza, ...it does provide a safety net, we hope, for the coming two to three months for those critical installations here."
Gaza, run by Hamas that recently publicly threatened genocide against Israel, is suffering its worst fuel crisis ever. Daily power outages of up to 16 hours hit public facilities and private homes alike. On November 1 Hamas's energy authority announced Gaza's sole power plant had run out of fuel.
Since Sunday Gaza has relied on 430 horse- or donkey-drawn carts to keep the streets clean, as the fuel shortage has left garbage trucks at a standstill. The trucks had been collecting 1,700 tons of garbage per day, according to municipalities minister Mohammed al-Fira.
One donkey-owning garbage collector, Mahmud Abu Jamal, told AFP "at first we were tasked with picking up the rubbish outside the hospital, but now we've had to take collections from outside people's homes as well." He added the Hamas authorities pay him 700 shekels ($200) a month.
UNRWA, which is buying the fuel for Gaza, is itself in a $36 million deficit and consequently announced it will not pay wages to its 30,000 staff members in December.
Just this week "Arab Idol" winner Mohammed Assaf of Gaza made appeals to raise funds for the organization while on tour in the US. Assaf is himself a UNRWA ambassador.
Meanwhile a group of US congressman have been pressing the State Department to investigate and justify massive US financial aid to UNRWA seeing as the organization is accused of inciting and radicalizing "Palestinian refugees."