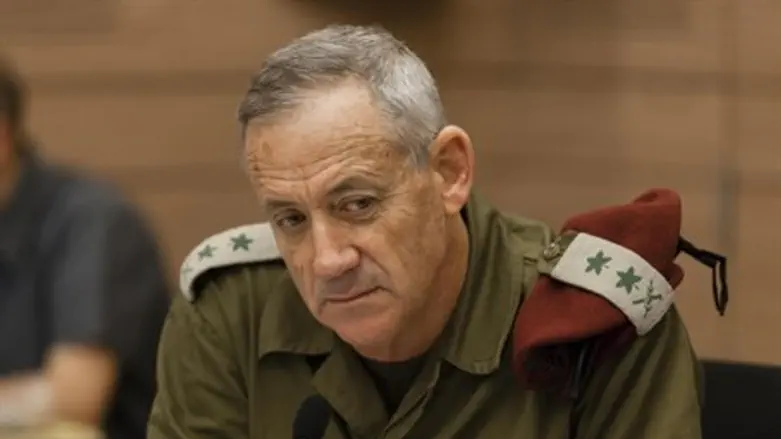 Benny Gantz, Shaked Committee meeting Nov. 27
Flash90
The Shaked Committee for the Equal Burden Bill convened Wednesday with IDF Chief of Staff Lt. Gen. Benny Gantz in attendance, Maariv reports. The purpose of the meeting was to get the general's perspective on various aspects of the bill, which would enforce the draft for the hareidi-religious sector. 
MK Ayelet Shaked (Jewish Home/Bayit Yehudi) opened the meeting by stating, "we are at the final stage in the legislative process and very close to determining the final fate of the law. Many good people before us have tried to integrate the hareidi-religious in the IDF, but all attempts have failed."
Regarding the law in general, Gantz stated that the point is to remain mindful of the principles of the bill. "The principle that guides us through the whole process is to create minimum differentiation among the sectors regarding who is obligated to serve in the IDF," Gantz declared. "In practice we are not there - and this needs to change."
However, Gantz also reassured critics that while IDF service remains of utmost importance to the majority of the population, the goal is unity. "The IDF does not see the hareidi-religious sector as the enemy," he said. "The IDF sees great value in the hareidi-religious community and we want to integrate them in our ranks." 
Many hareidi leaders claim that army service will lead their congregants away from religious life; Gantz fired back at those claims. "A hareidi soldier will leave [IDF service] still hareidi. Here is a chance for the IDF to become a platform for Jewish unity." 
Gantz emphasized that the hareidi soldiers currently serving "have only contributed greatly to the Army" and that he hopes that the number of religious soldiers in the draft will keep growing. 
Hareidi political representatives sharply condemned Gantz's statements. "The IDF does not have the ability to ensure that the hareidi soldiers will be able to maintain their religious lifestyle," MK Meir Porush (United Torah Judaism) shot back, "such as segregation from women."
Added MK Moshe Gafni (United Torah Judaism), "If the penalty for draft-dodging will be criminal punishment, then all of this discussion is in vain. Simply no one will enlist," he insisted. "You cannot define a Torah scholar as a common criminal." Gafni threatened to quit the Committee in September over the issue. 
Knesset discussion in the past several months has not only revolved around the legality of the bill, but also the nature of punishment for draft-dodgers. Likud is reportedly set to decide whether or not the punishment will be criminal - as originally proposed - or economic, as supported by Economics Minister Naftali Bennett (Jewish Home).