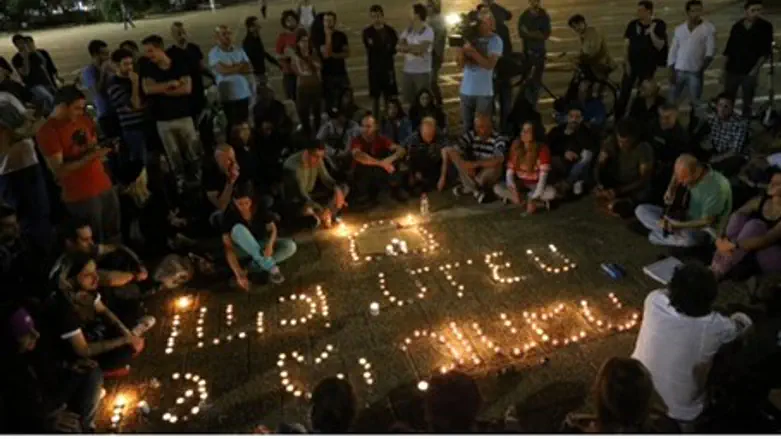 Impromptu memorial for Arik Einstein in Rabin
Israel news photo: Flash 90
People gathered outside Ichilov hospital on Tuesday night following the death of legendary Israeli singer Arik Einstein, and created an impromptu memorial. Arutz Sheva spoke to some of the visitors.
Some were among Einstein's friends and fellow singers. Einstein's friend Motti Giladi recalled him as "a great man and a great artist… unique as a singer, and in Israeli culture."
Einstein "epitomized humility" despite his great talent, Giladi said.
Another friend, singer Shlomo Vishinsky, said, "We lost Arik. Nobody can replace him."
Arik Einstein "loved the land of Israel. He loved people, and he loved peace," he said.
Some of the visitors were not personally acquainted with Einstein. One of them, Tzvika, explained why he had made the trip to the hospital to mourn and light a memorial candle.
"I felt a need to come because this is a historic moment, it's the end of an era. It's a historic moment for all of us," he explained.
Arik Einstein "touched all of our hearts… each person found themselves in one of his songs," he said. Einstein's music touched people of all ages, he added. "He was a child at heart."
Among those who mourned were Members of Knesset. Wednesday's session of the Education, Culture and Sport Committee opened with one of Einstein's well-known songs, the title of which translates to "You and I will change the world."
Committee head MK Amram Mitzna (Hatnua) said the song had inspired him. "I very much connected to Arik Einstein's song, to the desire to change the world, to be involved, to have an effect," he said.
"In his own way, without making a display or trying to take a place in politics, Arik Einstein said what many of us were thinking," he continued. "Einstein created an important, broad-based common denominator in a society that has too few common denominators. He connected people and generations."