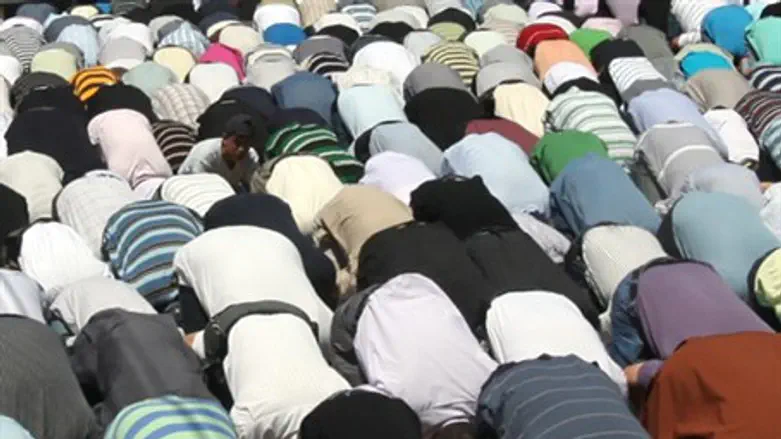 Muslims praying
Flash 90
Angolan officials have reacted to reports yesterday that their country had banned the practice of Islam and begun to destroy the country's mosques by strenuously denying the accuracy of the reports.
By Monday, reports were circulating throughout the Middle Eastern press that the African country had become the first state to ban Islam, and even offered a statement said to be from the country's President, Jose Eduardo dos Santos, in which he hailed the move as "the final end of Islamic influence in our country."
As early as last Friday, Morroccan paper La Nouvelle Tribune had reported on the ban, and quoted the Angolan Minister of Culture Rosa Cruz as saying that "The process of legalization of Islam has not been approved by the Ministry of Justice and Human Rights. Their mosques would be closed until further notice."
India Today also published the quoted, with Silva reportedly claiming the ban was necessary since Islam is "contradictory to the customs of Angolan culture."
But the International Business Times has pored doubt on the claims, quoting a number of Angolan officials as denying the existence of such a ban.
One unnamed source at the Angolan Embassy in Washington D.C., who requested annonymity due to the "sensitivity" of the topic, said that "The Republic of Angola … it's a country that does not interfere in religion."
"We have a lot of religions there. It is freedom of religion. We have Catholic, Protestants, Baptists, Muslims and evangelical people," he added.
He also pointed out that the country's president could not have made the comments attributed to him as he had been "out of the country" at the time, and said that he could not find any record of the comments purportedly made by the Minister of Culture either.
A second unnamed government official also denied the reports, and claimed that the first he heard of it was from the media.
"At the moment we don't have any information about that. We're reading about it just like you on the Internet. We don't have any notice that what you're reading on the Internet is true," he cautioned.
Claims the country had actually begun demolishing mosques in response to the ban have also come under skepticism after a number of the photos circulating, purporting to be from the scene of such demolitions, were revealed to be several years old, and not even taken in Angola.
Angola's population of 16 million is predominantly Christian, with only 80,000-90,000 Muslims, the majority of whom are migrants from West Africa and families of Lebanese origin, according to the US State Department.