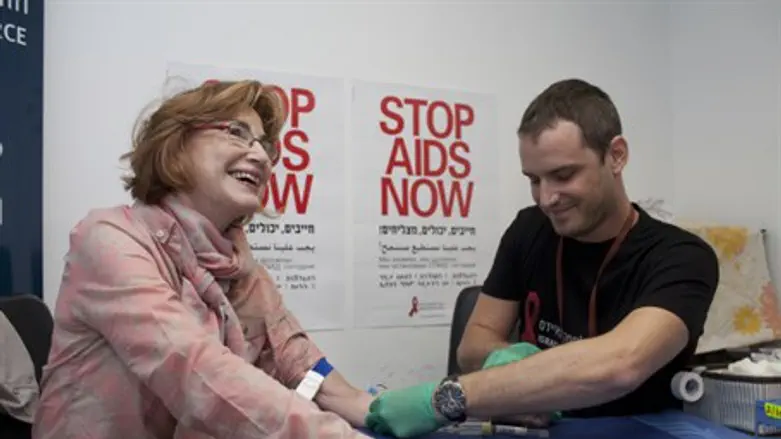 Yael German undergoes HIV screening in Knesse
Flash90
Health Minister Yael German stated Monday that she would work to mandate HIV screenings for all pregnant women by 2015, Maariv reports.
Monday marked a special Knesset committee meeting in conjunction with the Israel AIDs Task Force (IATF), run in part by MKs Yehiel "Chilik" Bar (Labor) and Adi Kol (Yesh Atid). Several MKs were also tested on-site for the virus, in support of the campaign. 
Current medical practice does not demand that family physicians force pregnant women to undergo HIV screening; as a result, an average of 4 babies per year are born with congenital HIV. IATF claims that statistics like this could be prevented if physicians were made more aware of the mothers' full medical status. 
"We welcome the Health Minister's statement and hope that its activities will bear fruit," said the Israel AIDS Task Force. "We also welcome the members of the Knesset who came to undergo HIV screening today and assist in raising awareness of the importance of testing."
The issue of HIV screening made headlines 2 months ago, when it was revealed that a newborn at Schneider Medical Center had accidentally been fed breast milk from a mother carrying the virus. Following the incident, efforts have multiplied by organizations such as the Israel AIDS Task Force to include HIV screening as part of the normal framework of tests prescribed for pregnant women.