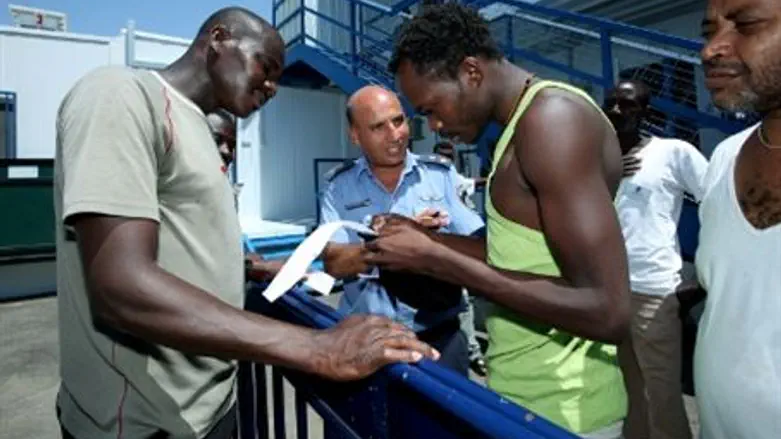 Illegal African immigrants
Israel news photo: Flash 90
The Israel Police, in cooperation with the Ministry for Senior Citizens and the non-governmental Center for Israeli Immigration Policy, provided dozens of elderly residents of southern Tel Aviv with self-defense lessons Monday.
A senior police self-defense trainer, Haim Hakani, taught the senior citizens how to behave in dangerous situations, and how to effectively defend oneself from violence.
Lt. Col. Alon Magen and Lt. Col. Nisan Menashi, commanders of police stations that maintain order in southern Tel Aviv's poorer neighborhoods, addressed the participants and confirmed that their neighborhoods are in added danger because of the numerous illegal immigrants who live in them.
Orly Yugir, Director of the Center for Immigration Policy, said Monday that the NGO receives dozens of complaints every month from elderly people who encounter violence by infiltrators. "We are pleased with the Israel Police's cooperation for increasing the residents' personal security," she added.
Interestingly, the left wing organizations usually associated with human rights and with combating violence apparently had nothing to do with organizing the self-defense lessons. Instead left-wing groups have led the fight against Israeli authorities to prevent the deportation of illegal immigrants.