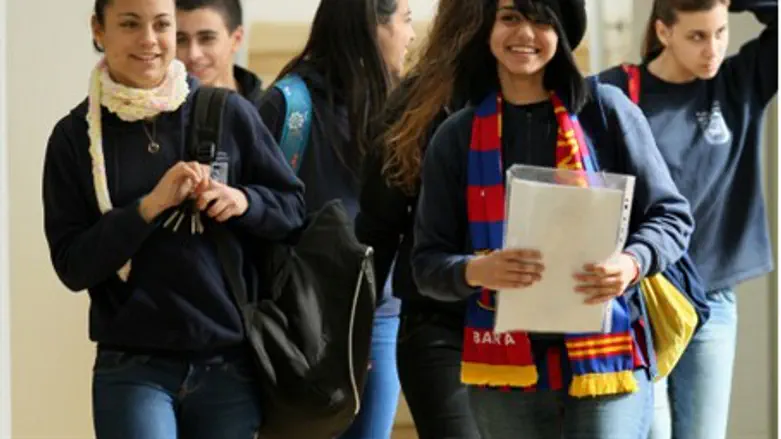 University Students
Israel news photo: Flash 90
After a heated discussion Sunday night, the National University Student Union's directing committee authorized a proposal by chairman of the committee Uri Rashtik, and Labor MK Hilik Bar, to send a delegation of university students to Ramallah for an audience with Palestinian Authority chief Mahmoud Abbas.
Some 200 students are expected to travel to Ramallah in mid-December for the meeting. The purpose of the meeting, the committee said, would be to "hold a direct conversation" with the PA chief. The proposal was supported by the heads of the student unions at Tel Aviv University, Ben Gurion University, Seminar Hakibbutzim, and Bar Ilan University. The heads of the student unions at Ruppin and Sapir Colleges opposed the plan.
Speaking to Ma'ariv, Matan Bar-Noy, head of the Bar Ilan University student union, said that he had decided to join the delegation and support it in order to bring its agenda closer to the "center," ameliorating the leftist agenda he feared that would evolve in the meeting. Bar-Noy is a resident of Elkana, in western Samaria.
"It was very difficult for me to make that decision," he said. "I decided to put my feelings aside. As the head of a student union that believes in nationalism and is Zionist, I believe it is proper to allow students with a range of political opinions to participate in such meetings, and to ask the tough questions."
Among those questions, he said, might be "Do you recognize Israel as a Jewish state? How do you embrace the murderers of children who are released from prison, yet talk about peace? And other such questions."
He added that he had set a number of conditions for his support of the event, such as requiring it to be canceled in the event of a terror attack, a commitment by the PA that there would be no censorship, and a promise by the PA that it would take all questions seriously, even the ones it did not like.