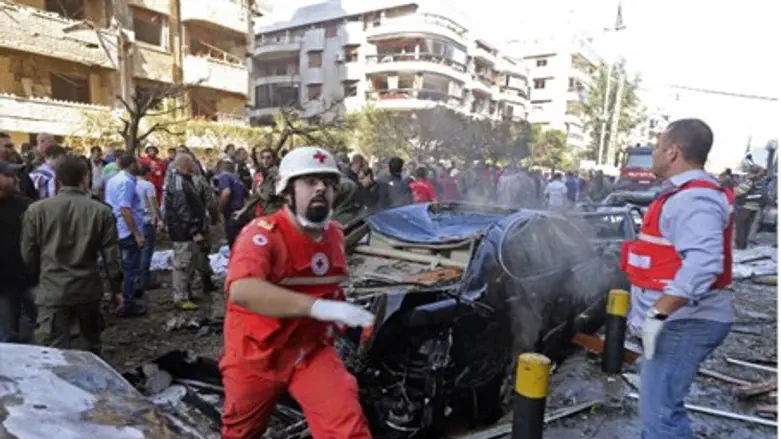 Scene of Beirut blasts
Reuters
One of the two suicide bombers who targeted Iran's embassy in Beirut was a "Palestinian with links to a militant Islamist preacher", according to the Lebanese Daily Star.
Saturday's report comes a day after Lebanese authorities said they identified the other bomber as a man from the southern port city of Sidon.
Both suicide bombers were identified by DNA testing, the army and a judge said, according to AFP.
The test on Adnan Abu Dahr showed that human remains at the scene belonged to his son, Mouin Abu Dahr, who was identified as the first of the two, the judge was quoted by the National News Agency as saying.
The army also confirmed that DNA testing showed the second bomber was Adnan Mussa al-Mohammad, a "Palestinian" who also lived in southern Lebanon and reportedly supported radical Sunni Sheikh Ahmad al-Assir.
Assir has in the past lashed out at Hezbollah for helping Syrian President Bashar Al-Assad's forces fight the predominately Sunni opposition in the country, announcing the formation of "Free Resistance Brigades" to fight Hezbollah in Syria.
He said it was "a religious duty" for his Sunni followers to join the fight against Hezbollah and the Syrian regime.
It was later reported that Lebanese youth were responding to Assir's call and were signing up for "armed Jihad in Syria."
In June, Lebanese troops seized control of the headquarters of Assir whose supporters battled the army for two days, killing 16 soldiers. The cleric has since disappeared.
The mother of the "Palestinian" suspect, Adnan, was in shock and refused to believe he was one of the bombers, while an uncle linked him to Assir, reported AFP.
"My son was devout and went regularly to the mosque (to pray)... I can't believe he committed this frightening crime," said his mother.
An uncle added that Adnan's father had learned from neighbors that he had been attending gatherings with Assir and had tried to talk him out of getting close to him.
"But he refused and left the house... months ago, and we knew nothing of him until his name was linked" to the Iran embassy attack.
There are thousands of people registered as Palestinian refugees in Israel's neighboring countries, including Lebanon and Syria, where they have been caught in the Syrian civil war.
Palestinian refugees in Lebanon have limited work options and are refused citizenship.
Tuesday's mid-morning blasts ripped through a stronghold of  Hezbollah, where the Iranian embassy is located, killing 23 people and wounding 146.
An Al-Qaeda-linked terrorist group calling itself the Abdullah Azzam Brigades has claimed responsibility for the attack.