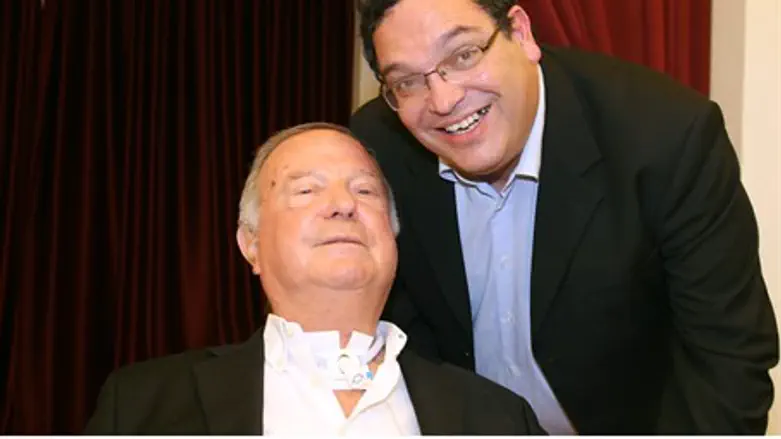 Min. Piron with Lautman
Flash 90
Finance Minister and Yesh Atid head Yair Lapid said about industrialist Dov Lautman, who passed away Saturday, that he was "an example and model for those who do, and do not just talk."
Lautman, 77, had established the Delta textile firm, which employs 14,000 worldwide.
"In the last few years," related Lapid, "Rabbi Shai Piron and I would call each other once in a while and say, 'let's go visit him.' (Shai would say, 'we're going to grandpa Dov') and we would tell him about our progress. He would remind us over and over that education has to be at the center of our activity. Education is industry, education is socio-economics, education is the only way to build a good human society. That is his will, and we will safeguard it. May his memory be blessed."
Piron is Education Minister for Yesh Atid.
President Shimon Peres said of Lautman Saturday that he was "a rare man who devoted his life to serving the nation and society of Israel. Whatever he gained for himself, he gave generously to society. He established a modern industry, went to the Galilee, invested in industrial centers in Egypt and Jordan, invested in education, in higher education and in high-quality employment for many generations of young Israelis."
Prime Minister Binyamin Netanyahu said that Lautman was among the people "who laid the foundations of modern Israeli industry." Lautman, he said, was a dedicated Zionist, "who saw the improvement of education as a personal and national mission."
"Even when he became ill with a disease that limited his physical abilities, he continued his activity and spread his vision," noted Netanyahu.
Economics and Trade Minister Naftali Bennett defined Lautman as "a Zionist and a man of action," and explained that "when he saw a certain need in Israel, he simply took action."
Bennett noted that Lautman established an NGO, "Acharai," that helps youth in the areas of Israel referred to as the "periphery" – the socio-economically challenged areas outside of the larger population concentrations – find their way into IDF service and the leading of productive lives. The NGO has helped over 22,000 people.