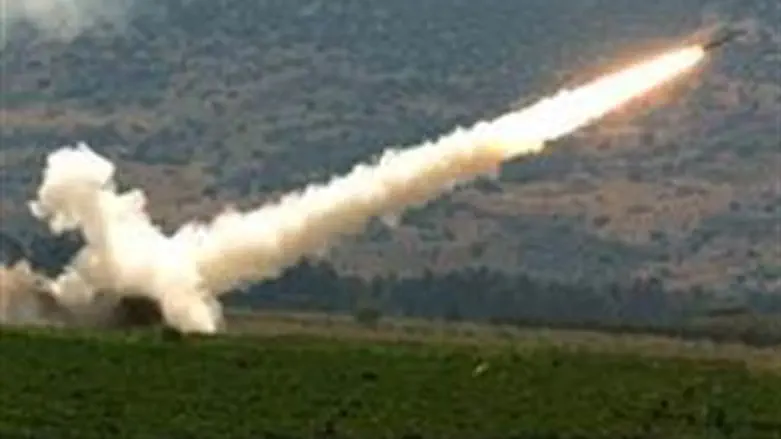 Illustration: Katyusha missile
Israel news photo: Flash 90
Mushir al-Masri, a Hamas member of parliament and senior figure in the terrorist organization, threatened increased Hamas missile range in the next confrontation, saying that if Israel struck Gaza, Hamas would fire missiles at "targets north of Tel Aviv."
Al-Masri, who spoke at an event organized by Hamas students to commemorate a year since the IDF's counter-terror Operation Pillar of Defense, claimed that Israel "will be surprised by the abilities of the Al-Qassam Brigades."
On Monday al-Masri similarly claimed that Hamas now has missiles with a 100 kilometer (62 mile) range, putting Jerusalem and Tel Aviv in their sights.
The threats were confirmed last Friday when Colonel Amos Hacohen, head of the IDF's Southern Gaza Brigade, assessed that Hamas continues to greatly expand and improve its missile arsenal. The missiles are largely produced in Gaza following Egypt's crackdown on Sinai smuggling.
Al-Masri extolled the young generation of Hamas, saying "these youths present at the event...are a generation educated in the mosques that learned the Koran by heart."
The senior Hamas figure then threatened Israeli leaders, and particularly Prime Minister Binyamin Netanyahu, telling them "to run away before the new generation of Al-Qassam Brigades reaches you."
Apparently not all of Hamas's next generation need be feared. Hamas leader Ismail Haniyeh's granddaughter was sent to Israel for medical treatment on Monday, only to be returned to Gaza that night after doctors couldn't treat her serious digestive tract infection.
Al-Masri further stated that "freeing the land (Israel) will not happen except by armed struggle and jihad, not by negotiations."
His comments come after Defense Minister Moshe Ya'alon said Sunday that there is no difference between Hamas and the Palestinian Authority (PA), the PA merely uses different means to achieve the same goal.