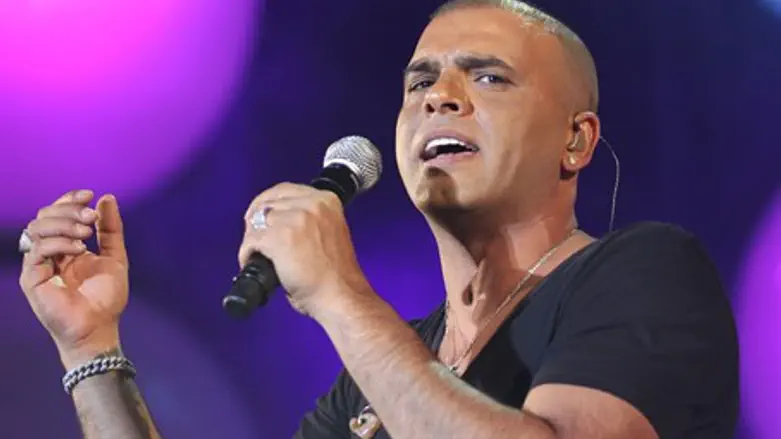 Eyal Golan
Flash 90
Eyal Golan, one of Israel's most famous singers, told Keshet Wednesday morning that he is stepping down as a judge on their TV music talent show "The Next Star." The celebrity said his decision came "in light of the police investigation on a sensitive issue."
Golan's move apparently is related to the investigation of a "famous singer" whose name is still under a gag order. The "famous singer," suspected of sexual relations with minors, was brought in by the police for investigation on Wednesday morning. Three others were arrested with him, including the singer's father.
Golan in his statements added "I believe in my innocence and am full of hope that it will be proven soon."
Keshet further announced that production has been suspended on the next season of Golan's TV show "Eyal Golan Calls You."
MK Uri Orbach (Jewish Home/Bayit Yehudi) earlier in the week attacked the decision to let Golan continue appearing as a judge on the TV show, decrying the "celeb" culture.
This is not Golan's first run-in with the law. In late October an indictment was filed against him and the managers of his Liam production company, charging them of hiding 2.65 million shekels in revenues and submitting 2.3 million shekels in false receipts.
Meanwhile the celeb singer Kobi Peretz was indicted Wednesday on charges of systematic tax evasion in hiding more than 5 million shekels of income between 2005 and 2009, submitting false income information, as well as making threats against his agent, an indictable charge under Israel's Penal Code.
The investigation which led to Peretz's indictment was conducted by the assessor of the Jerusalem Tax Authority's Investigations Department, and by the Central District's Fraud Investigations Unit of the Israel Police.