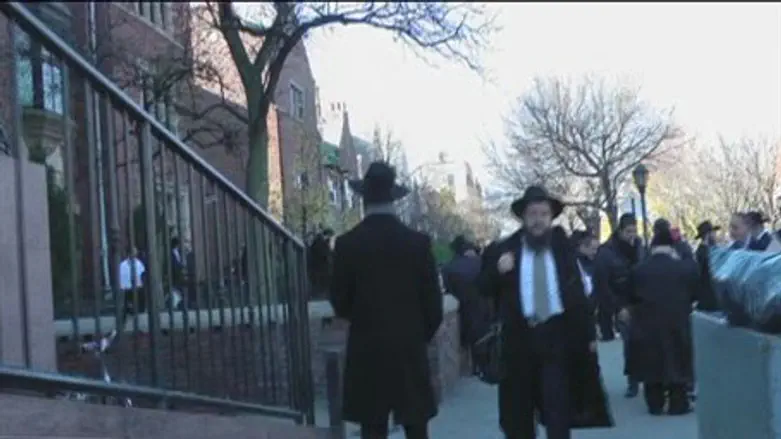 Crown Heights
Yoni Kempinski
A series of recent attacks on Jews in New York City could be part of a game being played by black youths called "Get the Jew," or "the Knockout Game," police said. A police investigation into several of the incidents is underway.
According to several reports, gangs of black youths walking down the streets of Jewish neighborhoods scout out a likely candidate, and attack the victim – the objective being to see if they can knock down the victim with a single punch. Others in the group take video of the incident, which is then posted to social networking sites.
One recent example of these kind of attacks, Jewish community members said, occurred last week in the Brooklyn neighborhood of Crown Heights, when a Jewish man was pummeled by a gang of black youths. Nothing was taken from him.
Before that, a gang of 15 black youths beat up a 12 year old boy in Crown Heights. According to a witness, two of the gang nabbed the Jewish victim and "ran back to the group screaming, 'We got him," and received a roaring cheer," the New York Daily News reported. Two Crown Heights public officials, Public Advocate-elect Letitia James and Councilman David Greenfield and Councilman-elect Chaim Deutsch, are offering a $1,000 reward for information leading to the arrest and conviction of the culprits in that case.
"The recent 'knockout' attacks in the Crown Heights community are an outrage of epic proportions. Everyone, in every community, must stand up to these heinous crimes and denounce them in the strongest way.Violent crimes such as these will not be tolerated. Not here, not now and not ever. I have spoken with the NYPD and was assured that they are doing everything possible to get these cowardly perpetrators into custody as soon as possible," Deutsch was quoted as saying by the JPupdates site.
According to Thomas Sowell, "responsible authorities in New York seem to have been caught by surprise, even though this knockout game has been played for years by young black gangs in other cities and other states, against people besides Jews — the victims being either whites in general or people of Asian ancestry." Writing in the New York Post, Sowell said that "attacks of this sort have been rampant in St. Louis. But they have also occurred in Massachusetts, Wisconsin and elsewhere. In Illinois, the game has often been called 'polar-bear hunting' by the young thugs, presumably because the targets are white.
"Because Jews have been singled out in these attacks," Sowell added, police "are considering prosecuting these assaults as hate crimes."