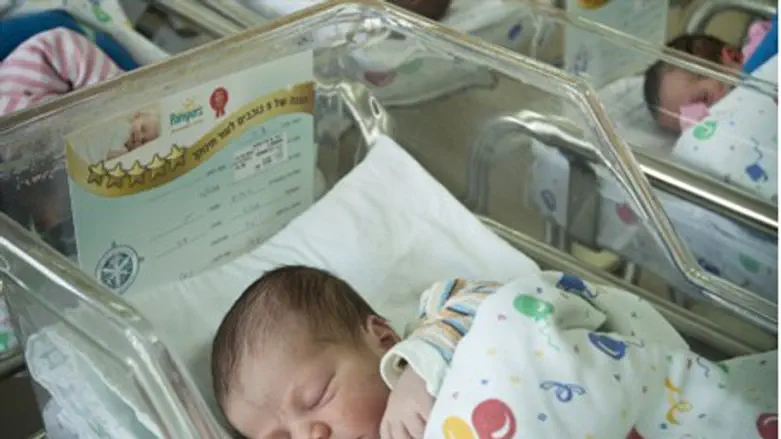 Newborn babies
Israel news photo: Flash 90
A newly released survey has shown that the name Adele is currently among the ten most popular names for baby girls in Israel.
Many media reports have attributed the name's popularity among Israeli Jews to the popular British singer of the same name. On Tuesday, Shas politician MK Aryeh Deri issued a clarification.
"I read the list of names and saw further proof of the nation of Israel's roots in [Jewish] tradition and the Bible," he said. "Among the popular names are some of the most important figures in the history of the Jewish people: Moshe, Yosef, Yonatan, Michal, Sarah, Yael, Tamar and more."
"Even the name Adele," he continued. "Those who attributed its popularity to some singer may be disappointed to learn that [Adele] was the name of the daughter of the founder of the Hassidic movement, the Ba'al Shem Tov, and also of the daughter of the founder of the Breslov Chassidic movement, Rabbi Nachman."
"The nation of Israel's connection to its roots is eternal," he concluded.
The names survey, published by the Central Bureau of Statistics, showed that "Noa" remains the most popular name for girls for the 14th year in a row. The other most popular names for girls were Shira, Tamar, Talia, Maya and Yael. The most popular names for boys were Uri (or Ori), Itai, Yosef, David, Yonatan and Daniel.
The survey noted that the name Adele has been among the 50 most popular girls' names in Israel since the early 1980s, but that it has become significantly more popular over the past three years.