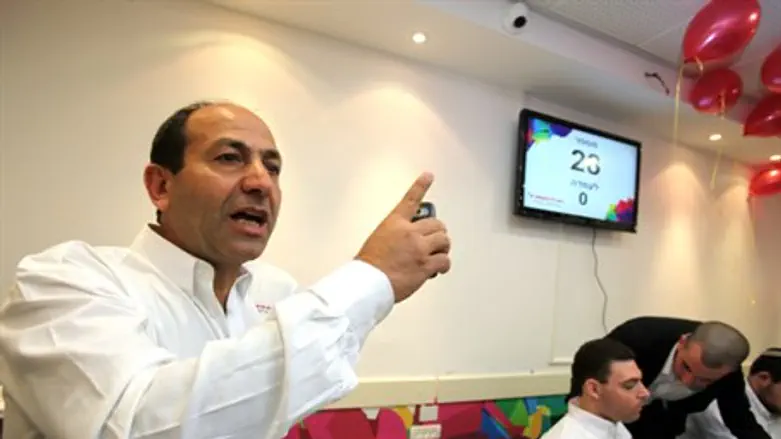 Rami Levy, at cellular phone store
Flash90
Supermarket and cell phone enterpreneur Rami Levy has opened a new chain of cell phone repair labs, as part of the Rami Levy Communications network. The repair service will be available at every Rami Levy branch across Israel, and will be available for customers from every cell phone service provider - not just Rami Levy. The service will also offer smartphone insurance. 
Rami Levy customers will be offered cell phone repair for between 120-150 shekels to subscribers, depending on the type of phone and damage being assessed. Subscribers to the insurance program for repairs at that price will pay either 300 or 480 shekel - depending on whether or not they use Rami Levy's cell phone service - to be paid over a 2-year period. New subscribers will also receive a 160-shekel coupon for the Rami Levy chain of grocery stores. 
The labs have already opened in several Rami Levy branches, including in Jerusalem, Pardes Hana, Modi'in, Shilat Intersection, Netanya, and Ashdod. Labs are due to be opened in all 18 branches of the chain. 
In honor of the launch, another of additional special offers will be provided by the chain in upcoming weeks. Among them: iPhone 4/4S screen replacement for 120 shekels, Galaxy 2 screen replacement for 400 shekels, Nexus-4 screen replacement for 750 shekels, and repair of the "home button" on older iPhone models for 100 shekels.