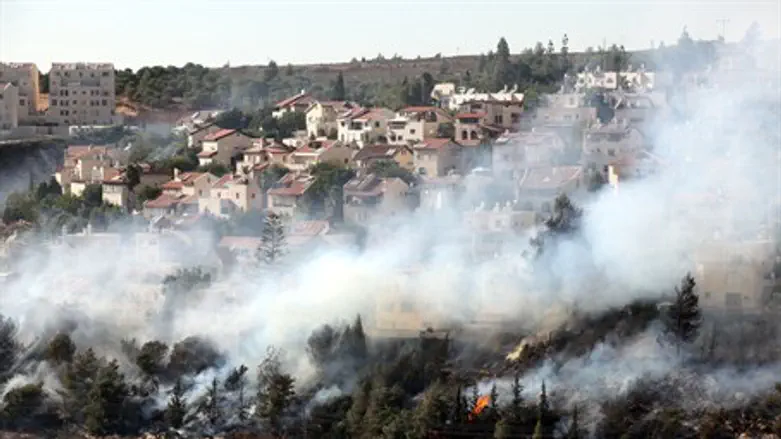 Arson (file)
Israel news photo: Flash 90
A building was set on fire late on Wednesday night in the Palestinian Authority Arab town of Sinjil, in the Binyamin region.
The building was painted with the words, "Hi from Eden - Revenge," leading security forces to believe the arson attack was carried out in response to the murder Wednesday of young Israeli soldier Eden Atias.
Five residents of Sinjil suffered injuries due to smoke inhalation. The property was damaged.
The IDF issued a condemnation of the attack. In a statement Thursday morning, spokespeople noted that revenge attacks harm Israelis as well as the PA Arab targets.
"These incidents distract security forces from their primary mission of fighting terrorism," a spokesperson explained. Attacks also "destabilize the relatively stable security situation," the statement added.
Security forces have been plagued for some time by the so-called "price tag" movement, an apparently uncoordinated series of attacks aimed at making Arab communities "pay the price" for terrorism. While most "price tag" incidents have ended with graffiti or some property damage, some have included potentially deadly arson.
Police have repeatedly arrested suspects, primarily religious-Zionist Jewish men, but most suspects have been released without charges after no evidence was found to link them to the attacks.
In at least one case, an incident of "price tag" arson was revealed to have been the work of PA Arabs. The attackers deliberately blamed Jews for their activities, using "price tag" as a cover for their crime.