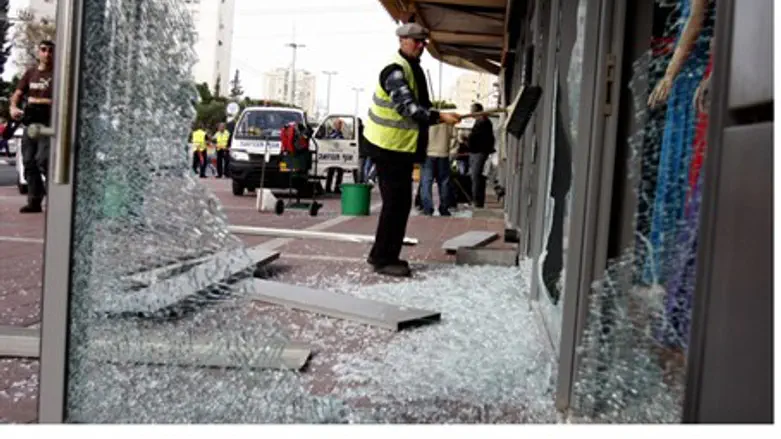 Following a rocket attack (archive)
Flash 90
Prime Minister Binyamin Netanyahu visited soldiers near Gaza on Tuesday, one year after the Pillar of Defense counter-terror operation in Gaza.
"We are marking one year since 'Pillar of Defense.' The numbers are clear: a decrease of 98% in rocket and mortar shell fire. There's no doubt that we obtained significant deterrence," he declared.
"However," he continued, "We don't delude ourselves. We know that Hamas and other terrorist groups are continuing to gather arms in various ways."
"They are also trying to develop the 'underground path,' that is, the tunnels," he noted. "We must find a way to respond to these threats, while maintaining the strong deterrence we obtained."
"Ultimately, we have this deterrence when the enemy knows that we will not tolerate attacks on our towns and our soldiers, that we will respond forcefully," he added.
Netanyahu also noted a related government accomplishment: the closure of Israel's southern border, which was formerly used for entry by illegal entrants, smugglers and terrorists.
"Israel is essentially the first country which has succeeded, in great measure, in closing its borders… This is a big success for the government, the IDF, the administration we established and the intelligence systems," he said.
Netanyahu concluded, "The war on terrorism, continuing deterrence, and finding responses to new threats – these are the primary missions we must carry out."