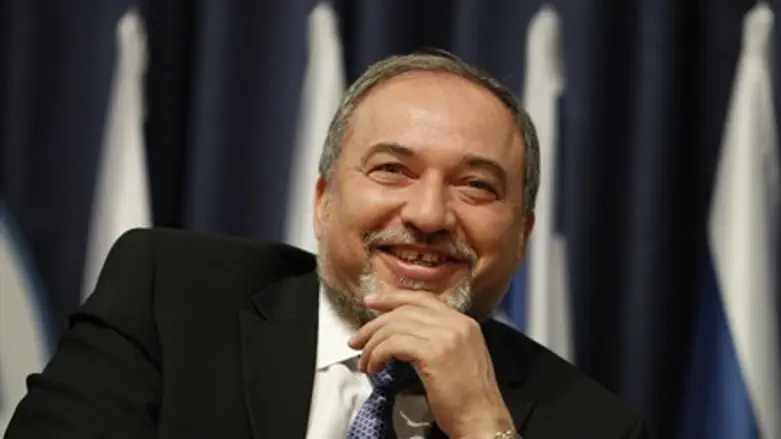 He's back.
Flash 90
Foreign Minister Avigdor Liberman returned to his bureau in the Foreign Ministry Tuesday after a ten-month absence, after his re-appointment to the position was approved in the Knesset plenum Monday.
Liberman thanked the bureau's employees, saying – "In ten months you did amazing work; you carried out assignments that were not simple, and you deserve thanks, for the fact that despite everything, the ministry made itself felt and made its contribution to the struggle in the international arena."
"I am not a sentimental man," he said, "[but] I entered my bureau and I found it exactly as I had left it. The same pen that I left on the table, I found exactly on the same millimeter. That is truly stirring. It's almost like the commercial – 'it's so good to come home,'" he said, referencing a television commercial with that theme.
Liberman employed sarcasm when he recalled the vigor with which some Opposition MKs attacked his return to office. "It was very entertaining yesterday at the Knesset, on the one hand," he said. "On the other hand, [I learned that] I had not valued my own importance enough. Yesterday I understood that all of the Middle East's problems are because of Liberman's policy on the Palestinian subject. That was the bottom line of the debate, mostly by the Opposition members: the only reason that the problems have not been solved is my view of the Palestinian subject."
Regarding tension in relations with the US as relates to the P5+1 talks with Iran, Liberman said: "My first work meeting today was with the US Ambassador to Israel, Dan Shapiro. Relations with the US are the central stone; without that we cannot maneuver in the current world."
As for disagreements between Prime Minister Binyamin Netanyahu and US President Barack Obama – "Disagreements are a natural thing," he said, "they should be taken care of, but they should not be heard in public as they have been."
Liberman was appointed Foreign Minister in 2009 but resigned from the position in late 2012, in order to stand trial for fraud and breach of trust in the matter of the appointment of Ze'ev Ben Aryeh as ambassador to Latvia. The court unanimously cleared him of the charges last Wednesday.