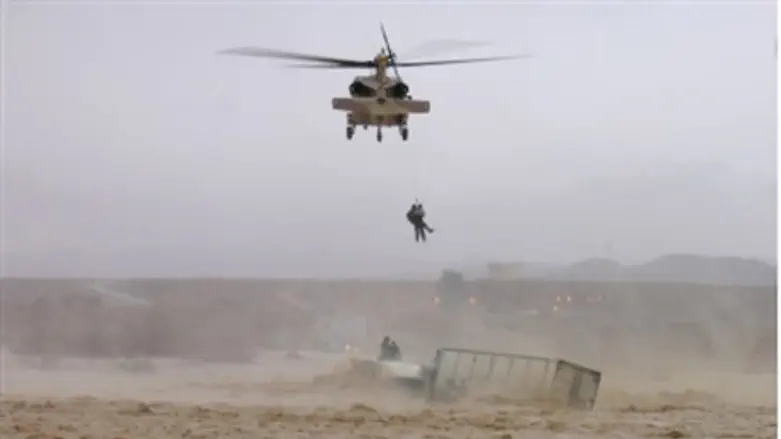 IAF rescue
Israel news photo: Flash 90
Just 24 hours after Typhoon Heiyan made a disastrous landfall in the Philippines, international aid is pouring in to help the island nation. 
Walla reports that over 8 million people have been affected by the typhoon, which left over 10,000 people dead and an estimated 800,000 reported missing. 
Walla also provides a breakdown of some of the international aid pledged so far - and it is plentiful. Australia has reportedly pledged 10 million Australian dollars in aid and medical assistance; China has pledged $200,000; the EU has pledged 3 million Euros; Indonesia has sent a search-and-rescue team, drinking water, food, and medical supplies. Japan has not pledged any financial assistance so far, but has been instrumental in transferring over 25 medical teams from various countries to the region. 
The US has sent a task force of 90 Marines, as well as food, water, supplies and purification equipment. "American medical forces and a military delegation have been dispatched in several locations," according to US Embassy staff in Manila. US Secretary of Defense Chuck Hagel has also reportedly stated that the US is sending helicopters, search-and-rescue teams, and other vital military equipment to the region. 
Conservative media news outlet Christian Science Monitor has also added statistics for international aid in the Middle East. The United Arab Emirates (UAE) reportedly pledged 10 million dollars in aid; Saudi Prince Talal bin Abdul Aziz has pledged $100,000; and Israel has already sent several search-and-rescue teams and medical crews to assist in international recovery efforts. 
In addition, Israeli humanitarian organization JDC (Joint Distribution Committee), the largest Jewish humanitarian organization in the world, has begun to raise funds to aid to the stricken population.
One report at the Monitor claims that the Middle East pledges to the Philippines, which are relatively high, reflect international pressures to stop the expulsion of Filipino foreign workers. 
Israel hosts a large Filipino expat population; Walla reports that much of Israel's Filipino community has found, to their horror, that they cannot reach their friends and family. In addition, the Foreign Ministry has also announced difficulties in contacting Israelis in the region, possibly hindering recovery and aid efforts. 
Prime Minister Binyamin Netanyahu has released an official statement of condolences to Philippines President Benigno Aquino III. "On behalf of the Government and people of Israel, I extend heartfelt condolences to the families of those who lost their lives as the result of the horrific typhoon, and I send best wishes for a speedy recovery to those who were injured," the letter reads. "Our thoughts and prayers are with you and the Filipino people at this difficult time."