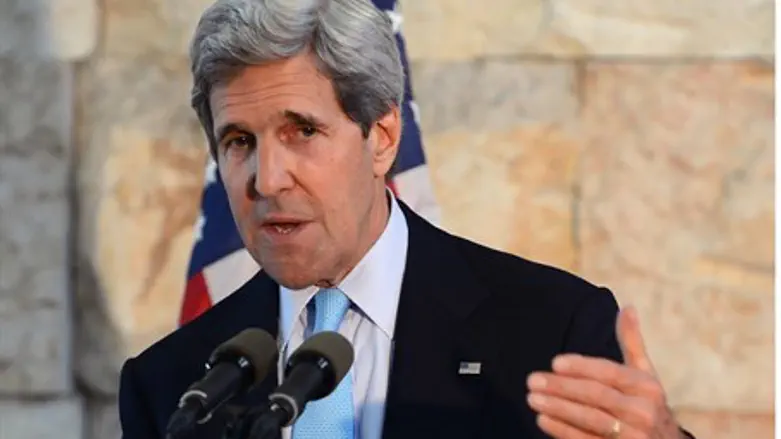 John Kerry
Flash 90
The United States is "not blind, and I don't think we're stupid" in nuclear talks with Iran, Secretary of State John Kerry said in a US television interview that aired on Sunday.    
The top US diplomat also insisted there is "zero gap" between the Obama administration and its commitment to Israel, with diplomatic relations between the two allies under strain over the Iran nuclear talks.    
Kerry made his remarks in an interview with NBC's "Meet the Press" program after talks with world powers in Geneva failed to produce a deal to curb Iran's nuclear activities in exchange for sanctions relief  
 "We are not blind, and I don't think we're stupid," Kerry said.    
"I think we have a pretty strong sense of how to measure whether or not we are acting in the interests of our country and of the globe, and particularly of our allies like Israel and Gulf states and others in the region."    
Three grueling days of Iran's talks with the United States, China, Russia, Britain, France and Germany, known as the P5+1, ended with no agreement but the two sides will meet again on November 20.    
Western diplomats had entered into talks with notable optimism, but cracks began to show among world powers when France raised concerns that the deal did not go far enough towards curbing Tehran's pursuit of nuclear arms.    
But Kerry told NBC that the United States is "absolutely determined that this would be a good deal, or there'll be no deal."    
"We're talking about stopping their program where it is, with enough guarantees to know that it is in fact stopped where it is, while we then negotiate the full measure of the deal with our allies," he said.    
Meanwhile Republican Senator Lindsey Graham, a leading voice in the US Congress on defense and security matters, warned against easing sanctions on the regime in Iran, saying Sunday it could have dire consequences.  
"My fear is that we're going to wind up creating a North Korea-type situation in the Mideast, where we negotiate with Iran and one day you wake up... and you're going to have a nuclear Iran," Graham said during an interview on CNN's "State of the Union" program.    
Another leading voice in Congress, Bob Corker, top Republican on the Senate Foreign Relations Committee, told US television that Washington is "dealing away our leverage" in the talks.    
"Iran is still going to be enriching uranium, based on what we see," Senator Bob Corker told NBC.    
"So when they say freeze, that means they're not going to be gaining - but they're still going to be enriching, so there are a lot of concerns," he said.    
"All of us want to see diplomacy... but we're also concerned about an administration that seems really ready always to jump into the arms of folks, and potentially deal away some of the leverage we have," Corker said.    
Earlier Sunday, a report by Iranian state media cited President Hassan Rouhani as reiterating his regime's commitment to continuing enriching uranium under the terms of any deal, describing the issue as Iran's "red line".
The draft deal said to be on the table could have seen Iran freeze parts of its nuclear program in exchange for the easing of some of the sanctions on its battered economy.    
French Foreign Minister Laurent Fabius was the first to reveal that a deal had failed, pre-empting the official announcement after the talks broke up.    
Israeli Prime Minister Binyamin Netanyahu meanwhile, continued on Sunday to slam what he said was "not a good deal" for any of the parties - with the exception of Iran.  
"Iran gives practically nothing and it gets a hell of a lot. That's not a good deal," Netanyahu told CBS television's "Face the Nation" program.    
"It's not good for us, it's not good for America, it's not good for the Middle East, it's not good for Europe either."  
But Kerry pushed back saying "there is zero gap between this president, between this administration and our commitment to Israel," despite continued criticism of the talks by its top Mideast ally.