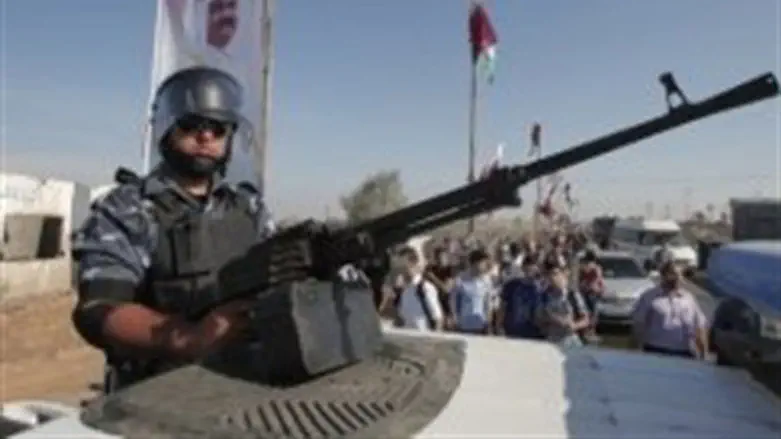 Hamas 'police'
AFP Photo
The movement that ousted the Muslim Brotherhood's Mohammed Morsi from the presidential palace in Egypt is making a move against the Hamas government in Gaza, too.
A new protest group in Gaza that was set up by young Palestinians is called Tamarod ("Revolt"), like its Egyptian predecessor, which was instrumental in organizing street protests against then-President Morsi.
The group, which is led by students, is planning demonstrations in Gaza on Monday to coincide with the ninth anniversary of the death of Palestinian Authority (PA) chairman and super-terrorist Yasser Arafat.
The BBC reports that it is unclear how much public support they will garner.
"We were able to collect 45,000 signatures in support of a campaign to rebel against the rule of Hamas on 11/11," said one of the founders of the group, who has been arrested several times by Hamas security forces.
He did not want to be named for reasons of safety.
"Our plan is to hold a peaceful demonstration to ask the Hamas government to resign and call for elections," he told BBC. "We have information that Hamas security forces received orders to use force against our rebels but this won't deter us," the Tamarod member added.
The Palestinian Tamarod is styled on the Egyptian movement, and more than 70,000 people have "liked" the Tamarod Gaza Facebook page, which publishes daily updates criticising Hamas.
The group claims that Hamas has abandoned its goal of armed resistance against Israel since taking over Gaza by force when it routed Fatah rivals in 2007.
On Facebook, it accuses the Hamas government of failing "to provide a decent life" by imposing heavy taxes on residents, and argues that the Hamas security agency has repressed and intimidated Gazans.
Hamas officials dismissed the movement as one that is "fake and only exists through the virtual world of the Internet," in the words of Islam Shahwan, a spokesman for the Interior Ministry in Gaza. "There is no activity on the ground," he added. "We will assess the security situation if protests erupt in the Gaza Strip on 11 November."
Youssef Rizqa, a political adviser to the Hamas prime minister, said Hamas was "not concerned about the threat to hold 11 November protests. The relevant authorities will deal with any request for a demonstration in accordance with the law".