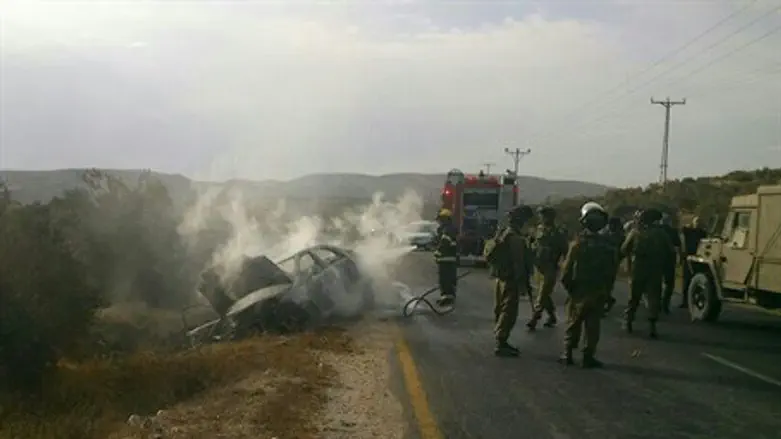 Terror Attack
אהד ראש, רבש"ץ נוקדים
An Israeli couple, a husband and wife, have suffered light to medium burns all over their bodies after a Molotov Cocktail was hurled at their car this morning (Friday) outside of the Gush Etzion village of Tekoa.
The wife suffered moderate burns; the husband was also lightly injured. Both were taken for treatment by Magen David Adom medics and transferred to Hadassah Ein Kerem Medical Center in Jerusalem. The couple was lucky to have escaped the vehicle, which was engulfed completely by flames. IDF staff is conducting sweeps of the region in search of the perpetrators.
The head of the Gush Etzion Regional Board, Davidi Pearl, responded to the terror attack by stating "it is a miracle today that we did not begin the morning with the funeral of two of our citizens [. . .] Until when will the government stop burying its head in the sand and running blindly after the peace talks which have never yet existed?" Pearl asked.
He continued: "How long can we wait? The government which releases terrorists - which among the MKs can wash their hands clean [of that decision] by saying that they, themselves, haven't spilled any blood? What else has to happen to us until they realize that there is no one with whom to discuss peace? When will they realize that the other side has never ceased and will not cease to educate their children for incitement, hatred, and murder? I call on the Prime Minister to get a grip [on the situation] and to stop [. . .] to bring terror into our homes and to stop the lawlessness."
Pearl's remarks follow a wave of terror attacks in Judea and Samaria since early in the week. On Monday, five firebombs were thrown at a bus carrying several passengers at about midnight, among them Bayit Yehudi MK Orit Struk. On Wednesday, terrorists fired on IDF soldiers near Modi'in and attempted to run one down. Just yesterday, the IDF thwarted an attempted terror attack at terror hotspot Tapuah junction. Then, a Palestinian Arab terrorist tried to stab a soldier after firing a flare near a popular hitchhiking post.
MK Yoni Chetboun of Bayit Yehudi (Jewish Home) also condemned the wave of terror attacks yesterday (Thursday), stating that "terrorism must be opposed and defeated, not spoken to." Criticism continues to fall on John Kerry after he reportedly made threats of a third intifada this week in the event that talks fail. 
Yehudit Katsover and Nadia Matar, chairwomen of the grassroots Women In Green movement, also hold US Secretary of State John Kerry responsible for the recent upswing in violence.  "John Kerry speaks, and the Arabs carry out. Kerry threatened a third intifada - and the terrorists took additional support for terror from his words, and went to perpetrate the firebomb attack this morning. John Kerry bears responsibility for this attack."
They concluded, "The United States is returning to its dark days, the time when it chose to betray the Jewish people. Now, however, unlike those days, the Jewish people is capable of defending itself. If it only internalizes that it must take its fate in its hands, it will be able to do so."