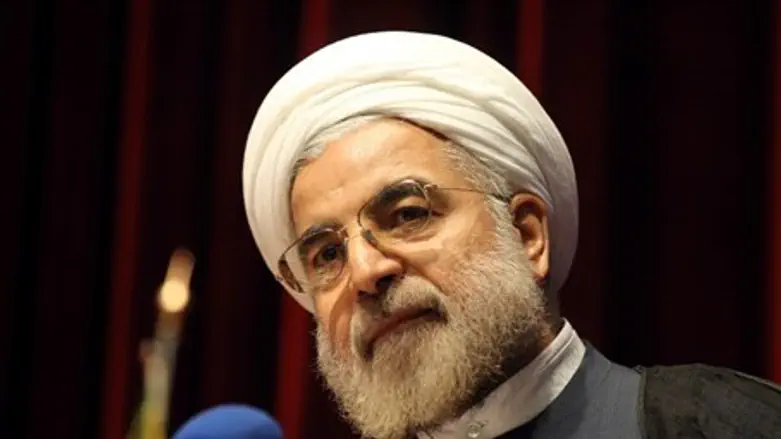 Iranian president Hassan Rouhani
AFP photo
Iranian Nobel Peace laureate Shirin Ebadi has strongly criticized the human rights record of Iran's new President Hassan Rouhani, whom the West has touted as a "moderate".
As part of his efforts to woo both Iranians and the West, Rouhani has previously said that a strong government does not "limit the lives of the people and has claimed that he believed social networking sites such as Facebook were a welcome phenomenon.
Ebadi, however, is not buying the new president's seemingly moderate statements. Speaking to The Associated Press, she cited a dramatic increase in executions since Rouhani took office this year and accused the government of lying about the release of political prisoners.
Ebadi, a U.S.-based human rights lawyer who since 2009 has lived outside Iran in self-exile, said that Rouhani may have the reputation of a moderate reformer, but so far "we get bad signals" from the new government when it comes to human rights.
She won the Nobel Peace Prize in 2003 for her efforts to promote democracy, becoming the first Iranian and first Muslim woman to win the prize.
In the interview, she pointed to Tehran's largest anti-U.S. rally in years on Monday - the anniversary of the takeover of the U.S. Embassy in 1979 following the Iranian revolution. During the rally, tens of thousands of demonstrators chanted "death to America" and burned an American flag.
"How do they want to have a rapprochement with America when they do that?" asked Ebadi, referring to Rouhani's insistence since being elected on wanting to improve Iran's foreign relations and his subsequent historic phone call with President Obama.
"Therefore, I think it's too early to judge whether the relations between Iran and America will improve or not," she told AP.
She also expressed outrage at the retaliation that followed the death of 14 border guards in a clash with government opponents on October 25 near the town of Saravan near the frontier with Pakistan.
It was reported that 16 "rebels" were hanged hours later in revenge for the attack. But Ebadi said the prosecutor for the province went on television soon after the attack and announced that 16 prisoners arrested previously - who had nothing to do with the attack - had been executed in retaliation.
She said the government cracks down on human rights because of "fear, but they use religion or abuse religion in order to justify it."
Those executions weren't the only ones, she said.
In the last 10 days, 40 people have been executed, including some political prisoners, Ebadi said, and since Rouhani was inaugurated in August, the number of executions has doubled compared with a year ago.
She noted that government propaganda claims that dozens of political prisoners have been released.
"This is a big lie," declared Ebadi. "Twelve or thirteen people have been released but these are people who had served their time."
Top opposition figures, Mir Hossein Mousavi and Mahdi Karroubi, remain under house arrest, she noted.
Ebadi said the only political prisoner released early was prominent human rights lawyer Nasrin Sotoudeh, winner of the 2012 Sakharov Prize for Freedom of Thought. She is still barred from leaving Iran, Ebadi said.
In another rights crackdown, she said, the editor of the reformist newspaper Bahar was jailed last week for publishing an article on Shiite Islam deemed offensive by authorities in the Islamic Republic, a predominantly Shiite nation.
He was released on "hefty" bail after two days but the paper remains closed, she said.
Iran regularly executes people who are convicted of murder, rape, armed robbery, drug trafficking, adultery and espionage.
Amnesty International recently said that at least 508 people may have been executed in Iran this year - a rate that has not slowed under the rule of Rouhani.
In 2011, Iran put to death more than twice as many people as it did the year before.
Ebadi, 66, who left Iran just before the disputed 2009 election which gave Rouhani's predecessor, Mahmoud Ahmadinejad, a second term, expressed hope that nuclear negotiations between Iran and six world powers will lead to the end of U.S.-led sanctions and a settlement of the stalemate with the West over Tehran's nuclear program.
"But I have doubts," she quickly added, "and I think it's too early to be optimistic."