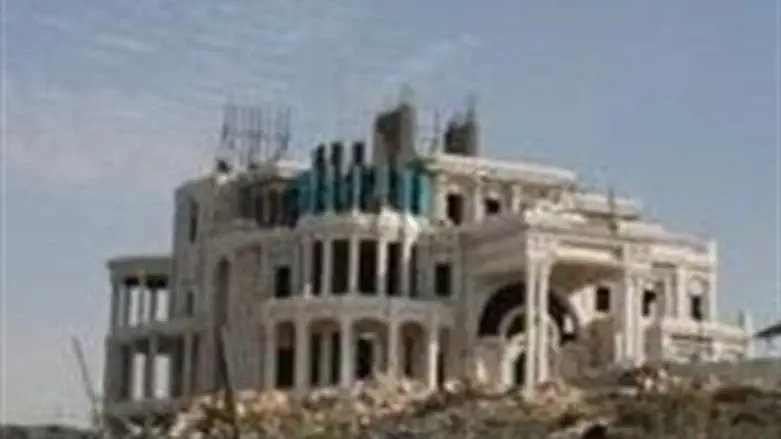 Illegal Arab building
(Courtesy Regavim)
On Monday the Jerusalem municipality demolished a church-owned property in eastern Jerusalem, according to AFP reports. Following the demolition a statement revealed that mass demolitions of illegal Arab buildings are on the way.
The demolition Monday began as security forces arrived with an order stating the structure, owned by the Roman Catholic church and housing a family of 14, was built without a permit.
However the enforcement of the building law demonstrated in the incident appears to be merely the tip of the iceberg.
According to the Association for Civil Rights in Israel, the Jerusalem municipality is starting proceedings for the mass demolition of illegal Arab buildings throughout eastern Jerusalem.
The group released a statement Tuesday saying "over the past few days, hundreds of families in the Ras Hamis and Ras Shahada neighbourhoods received notices that the Jerusalem municipality has requested the issuance of demolition orders on their homes because they were built without legal permits."
Last Wednesday the demolition of an illegal Arab building in the Jerusalem neighborhood of Beit Hanina, along with the issuance of 7 new demolition orders in Silwan, raised hopes of tougher enforcement of the building law among the Arab sector.
It is speculated that Aryeh King of the "United Jerusalem" list which won two seats in the recent city council elections may be partially behind the new tougher stance.
King, one of Jerusalem's foremost advocates of demolition orders against rampant illegal Arab construction, announced last Friday that he will take his post as a council member on the Regional Planning and Building Committee.
Meanwhile Fuad Tawwal, head of the Roman Catholic church in Israel, spoke against the demolition Monday, claiming orders for the demolition were not received beforehand.
The church head said they would appeal to Israeli and international courts, and had already complained to the Ministry of the Interior and the municipality. He said it was the first time church property had been demolished in Israel.
Tawwal has previously shown antagonism to Israel, declaring in 2012 that "Christmas is also a celebration of...the birth of the state of Palestine."
Jordanian born Tawwal made the statement following the UN General Assembly's passage of a resolution giving the Palestinian Authority non-member observer state status, similar to that of the Vatican. The unilateral move came in opposition to agreements in the Oslo Accords demanding the determination of final status through negotiations. 
The Roman Catholic church previously was reported to be attempting to buy King David's Tomb in Jerusalem, a report which Deputy Foreign Minister MK Ze'ev Elkin (Likud) dismissed in July.