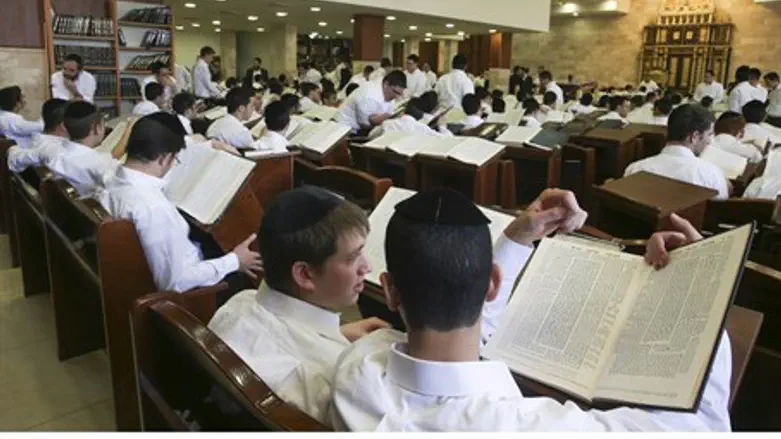 Hareidi yeshiva students
Flash 90
After Education Minister Rabbi Shai Piron extended state funding for yeshivot (Torah academies) for a third time last month while the budget is still being finalized,  the Supreme Court has ordered the State to release a statement within the next week justifying the decision to continue giving hareidi institutions - whose students do not engage in national service - State funding.
The move follows pressure from liberal organizations, who claim that the yeshivot funding demonstrates gross inequality, and comes as the national debate over "equal sharing of the burden" comes to a head, with a law to end the military service exemption of hareidi yeshiva students set to pass its final reading during the current Knesset session.
Finance Minister Yair Lapid (Yesh Atid) sharply cut funding for all yeshivas in his 2013 budget, but a major campaign, spearheaded by Economics Minister Naftali Bennett (Bayit Yehudi), was initiated to exert pressure restore at least part of the funding. The government finally announced last month that NIS 65 million would be transferred immediately to yeshivot.
The petition was filed after the decision to cancel the Tal Law, which had been designed to regulate the status of yeshiva students. Once that law was abolished, the petition argues, it was the State's responsibility to stop funding all yeshivot and Kollels whose students do not enroll in national service. 
The State, in fact, has agreed with the fundamental concern of the petition - to ensure that yeshiva students do not illegally evade the mandatory Army service assigned to every male over 18 - and has released plans to change the criteria for yeshivot receiving state funding, to include Zionist programs and to fund only those yeshiva students which have either completed their army service or have a legal exemption from doing so. According to the new guidelines, students who receive a draft notice and do not present themselves before IDF officials for recruitment will not be subsidized by the State at their institutions of learning. 
Petitioners are not satisfied with the changes, however, who insist that the new mandates leave the situation unchanged. The groups invoke the Equality cause for government budgetary distribution, which they say has not been redistributed to the rest of the Israeli population since the cancellation of the Tal Law.