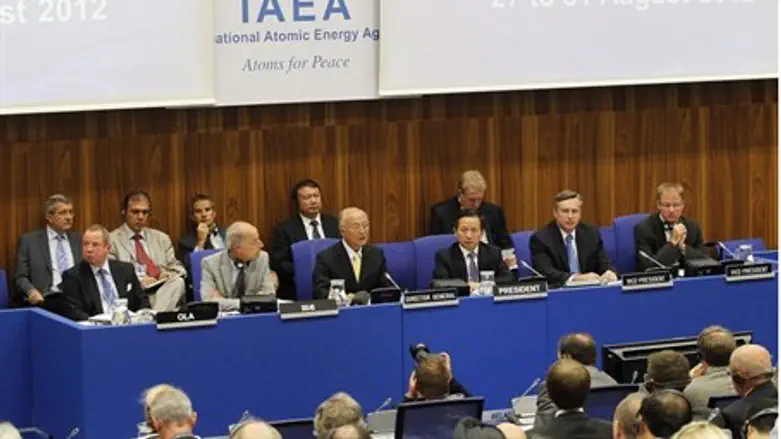 IAEA officials
AFP/File
The head of the UN's atomic watchdog said on Friday that Iran's new leadership has indicated a willingness to address concerns regardless of progress in parallel talks with world powers, AFP reports.
The International Atomic Energy Agency (IAEA) said this week that it held "productive" talks with President Hassan Rouhani's government, which come as Iran conducts separate negotiations with the United States and five other nations over its nuclear program.
In a break with Iran's past statements, Yukiya Amano, director general of the IAEA, said that Rouhani's team has not tied cooperation with the Vienna-based agency to the political talks - in which Tehran is seeking relief from crippling U.S.-led sanctions.
"I can tell you that after the coming of President Rouhani, we have had a number of contacts with them.. but we haven't heard this linkage," Amano was quoted by AFP as having said at the Woodrow Wilson International Center for Scholars in Washington.
Asked whether this marked a significant change, Amano said, "I think so. There is some substance in the new proposal by Iran."
Rouhani, who swept to power in June on promises to repair Iran's troubled economy and ease its political isolation, has called for a quick agreement to end concerns that the clerical regime's uranium work is aimed at building a nuclear bomb.
The IAEA, which meets again in Tehran on November 11, and the six major powers, which meet Iran again in Geneva on November 7-8, have declined to describe Iran's proposals in public while negotiations are underway.
For the IAEA, one sticking point is the agency's hope of investigating allegations that Iranian scientists conducted experiments aimed at developing a nuclear arsenal before 2003 and possibly since.
Iran has denied the charges, saying that purported evidence comes from faulty intelligence by the likes of the CIA and Israel's Mossad that Tehran has not been allowed to see.
Amano said that the IAEA "would like to clarify the present and past activities" of Iran but declined to say whether he expected Tehran to be allow a more intrusive probe.
While President Barack Obama's administration has voiced guarded optimism about reaching a peaceful settlement with Iran, Israeli Prime Minister Binyamin Netanyahu has denounced Rouhani as a "wolf in sheep's clothing" and not ruled out a military strike.
Iran, meanwhile, has also accused Israel of trying to undermine the progress in Tehran's nuclear talks with world powers.