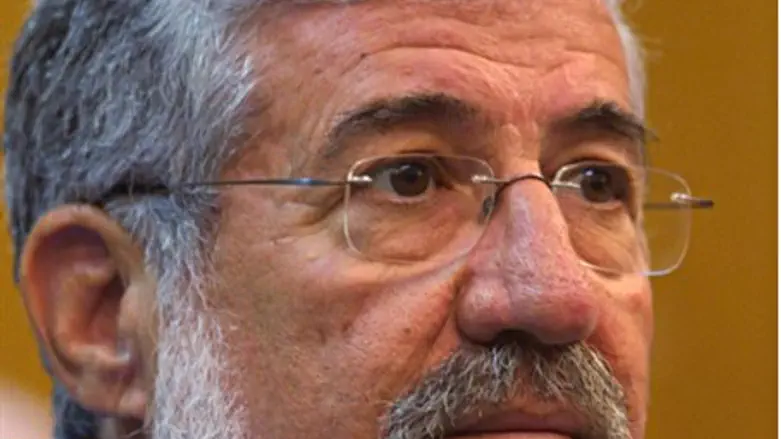 Amram Mitzna
Flash 90
MK Amram Mitzna (HaTnua) is the latest to continue a series of backlashes against Bayit HaYehudi (Jewish Home) for their statements regarding Tuesday's controversial release of 26 terrorists to the Palestinian Authority. Mitzna repeated sentiments that the party's actions constituted incitement - incitement which he claimed may potentially lead to even more bloodshed. 
"It started as a pain in our side and eventually moved forth in great waves," Mitzna said, "then the Economics Minister [Naftali Bennett] came to the funeral of murdered IDF solider Gal Kobe as a government representative and cynically exploited the event, appealing to those present to connect the soldier's murder with Tuesday's terrorist release." 
Mitzna's statements refer to statements made recently by Bayit Yehudi MKs against last night's terrorist release, which various other parties have noted contradicts the party's participation in the Knesset vote for the decision. Despite reportedly voting against the release, some MKs have stated this week that a true statement of opposition to the move would have constituted the party refusing to participate in the vote to begin with. 
Mitzna also noted that Bayit Yehudi Chairwoman Ayelet Shaked has announced that the party aims to enact laws which will legally prevent the government from allowing future terrorist releases, and responded by stating that "Bayit Yehudi's failure to accept government decisions calls into question their very participation in the [current] government."
He also claimed that the party needs to stop condemning the actions of others, and instead "combat internal demons which can disrupt the current political climate", a veiled reference to the 1995 assassination of Prime Minister Yitzhak Rabin by a right-wing extremist. Israeli left-wing parties like HaTnua typically use the event as a springboard for criticism against Israel's right wing, in verbal attacks which equally have the potential to incite. 
He continued to attack the party, claiming that their disapproving statements toward Justice Minister Tzipi Livni "crossed the line."  In another Rabin reference, Mitzna argued that "we've learned firsthand that there are enough extremists out there who are willing to view national events as a call to action." 
Mitzna's statements follow a controversial Supreme Court decision to allow the terrorist release to continue despite possible legal objections which were raised in the context of the 1995 Shamgar Commission, a series of hearings analyzing the Rabin assassination which debated the legality of prisoner exchanges. In that case, a conclusion was made that terrorist exchanges were not worth the risk of Israel's national defense.  
Bayit Yehudi MKs left the Knesset meeting in protest of the inflammatory nature of Mitzna's verbal assault. Upon returning, party spokesperson MK Ayelet Shaked ascended to the podium and declared that calling for new laws preventing further release "is not incitement, but an expression of democracy." She reminded the assembly of yesterday's (Tuesday) threat to murder Bayit Yehudi head MK Naftali Bennett, calling for an end to escalation and for the left-wing parties "to stop connecting things which have no connection." 
Bayit Yehudi MK Uri Orbach also responded to Mitzna by with condemnation, demanding a halt to "calling the fire department for false alarms." Orbach continued by alleging that the left-wing has repeatedly "offered fear and intimidation" to the Knesset instead of suggesting an actual initiative for change in government policy, and urged them to stop "making every word or action into an incident of incitement."