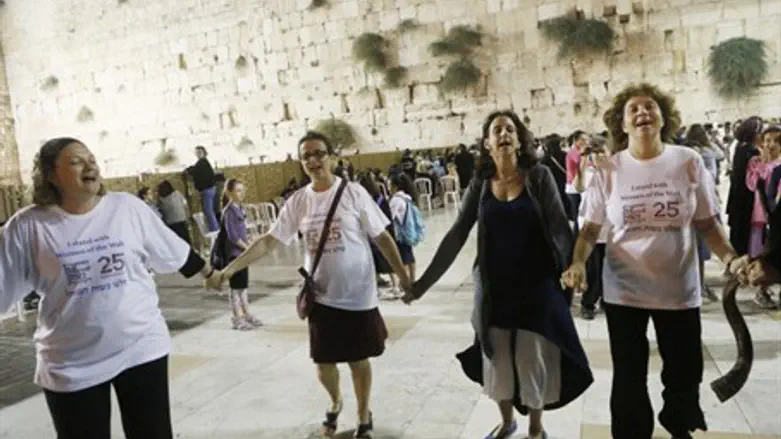 Women of the Wall
Flash 90
Women of the Wall, the group challenging traditional Jewish practice at the Western Wall, has called for the the government to stop "ultra-Orthodox leaders who are organizing demonstrations against Women of the Wall."  
The statement refers to the Women For the Wall, a group which was organized to counter Women of the Wall's demonstrations at the holiest site in Judaism, and which has brought thousands of women to the Wall each month in defense of Jewish tradition.
The demand comes in a list of sixteen conditions the group wants met before they will move their Rosh Hodesh prayer to a new "Ezrat Yisrael" section built specifically for them.  Women For the Wall called on the organization to move to the new section, but it was announced they will not do so until all their conditions are met and construction is finished.
Ronit Peskin, Director of Women For the Wall, said "the very idea that a group that can hardly muster 100 women on a good month should dictate to the government how to run the Kotel plaza is mindboggling.  The list of demands is yet another example of Women of the Wall's preoccupation with themselves at the expense of the Jewish People."
Aside from the ban on other organized groups, other demands include a permanent cap on the traditional prayer area size, the right for women to sing in the plaza immediately behind the men's section, and various demands concerning the funding, development and control of the alternative plaza.
Leah Aharoni, co-founder of Women For the Wall, said "Women of the Wall claim to give women a voice at the Kotel, yet in reality they are there to squash the voice of hundreds of thousands of women, who oppose their antics and want to preserve existing Jewish tradition."