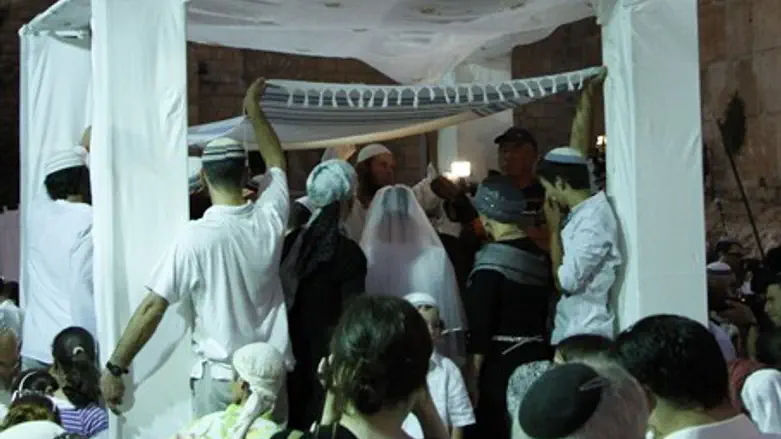 wedding, illustration
Flash 90
The Knesset on Monday night passed on its second and third reading a law that will allow couples to marry in any city or town in the country. The law, popularly known as the "Tzohar Law," was sponsored by Bayit Yehudi, and was designed to allow couples to more easily choose rabbis they feel comfortable with.
The law was passed by a large majority, with 57 MKs in favor and 14 against. All opposed were MKs were from hareidi parties, who have been vehemently opposed to the legislation.
With the marriage "market" now becoming competitive, local authorities will have to ensure that the experience – including registration, procedures, and rituals – is pleasant for couples, Bayit Yehudi said. A spokesperson for the party said that the law would assist some 35,000 couples that get married in Israel annually.
Passage of the legislation was made possible by the institution of a computer system that will include information on marriages from cities and towns around the country. With the national database, rabbis in all local authorities will have access to information on couples seeking to get married.
Until now, Israelis who sought to marry needed to register in the community where they lived. If the couples lived in different cities they would register with the Rabbinate of the husband's home town. Many people have complained that they did not get along with the rabbi in charge of their town, and that they were forced to abide by strictures that were not required by Jewish law, but were stringencies that the rabbi followed as a personal or community custom.
According to the law, rabbis will be issued a special license to conduct weddings. The license will be granted only after special training. Any rabbi who conducts a wedding without a license to do so will be subject to penalties, including a two year jail sentence.
Economics Minister and Bayit Yehudi head Naftali Bennett said that passage of the law was an election promise made, and now fulfilled, by his party. "In the same way that we are opening markets to benefit consumers, we have opened the religious services market, and this will benefit consumers as well."
Rabbi David Stav, head of the Tzohar group, which was a staunch supporter of the legislation, said that "as someone who helped write the legislation, I congratulate Tzohar for beginning the process of opening up the 'marriage market,' a task which will now be carried on by rabbis in all parts of the country. This is a law that has long been needed, and will allow all couples, including and especially secular couples, to get married in a halachically correct manner [i.e. according to Jewish law - ed.], but in an atmosphere that they find enjoyable. I believe that this will be the beginning of a revolution that the Jewish people desperately need," he added.