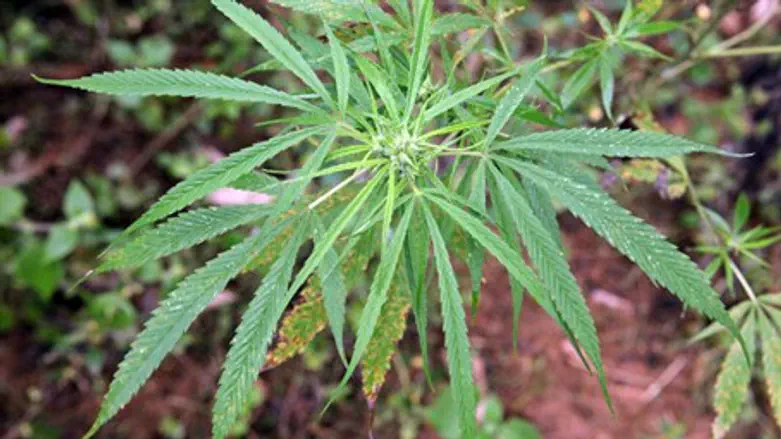 Cannabis plant
Flash90
Legislation to approve widespread use of medical marijuana will move forward, after a decision by the Ministerial Law Committee.
A compromise was worked out whereby legislation will be prepared by Health Minister Yael German, to ensure that all concerns expressed are addressed in the law.
German will take the existing proposal and examine it in light of concerns that have been vocalized by numerous professionals and Knesset members. The revised legislation will be presented to the Committee for approval for legislation within 45 days.
In a letter to Justice Minister Tzippy Livni last week, Israel Medical Association Chairman Dr. Leonid Idelman said that he and his organization were opposed to a proposed law that would allow Israeli doctors to freely prescribe medical marijuana.
The law, proposed by MK Moshe Feiglin (Likud-Beyteinu), would enable doctors, including family doctors, to prescribe medical marijuana based on their own recommendations. Feiglin said that he knows of a number of cases firsthand in which medical marijuana has helped relieve pain and assisted patients on the road to recovery.
Currently, all cases requiring medical marijuana must be presented before a Health Ministry committee, which has the final word on who is eligible to receive the marijuana.
In his letter, Idelman said that "marijuana is currently classified as a 'dangerous drug' in Israel. As such, its use is limited to specific cases in which no other treatments have been found effective, and only after all other possible treatments have been tried. The decision should remain in the hands of experts," he said, because allowing large-scale use of medical marijuana would damage Israelis to a far greater extent that many suspect.
Some 11,000 Israelis are currently being treated with medical marijuana.
Health Minister Yael German (Yesh Atid) said that she wanted to ensure that medical marijuana was distributed to those who needed it.
"On one hand, we will make sure the law is observed properly, and on the other, we will ensure that those who need treatment receive it," she said.
Speaking about German's decision, Feiglin said that "I, along with those who are ill and would benefit from medical marijuana, will wait and see what the Health Minister proposes. We truly hope that the law will be ready for legislation within 45 days, and that the law provides a true solution for those who need help, and does not deteriorate into another attempt to drag things out."