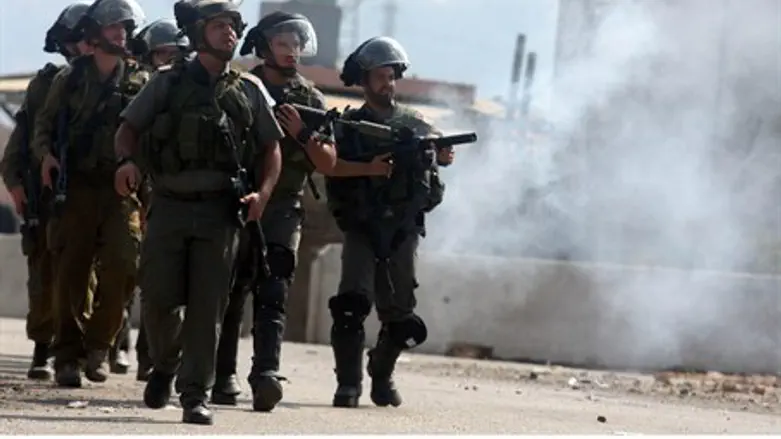 IDF activity
Israel news photo: Flash 90
A Palestinian Authority resident Arab man was shot and injured Saturday while attempting to infiltrate an Israeli town.
PA media outlets identified the man as 23-year-old Ishmael Mashni, and said he was shot in both feet.
IDF spokespeople said Mashni was shot after soldiers spotted him damaging the security fence around the Israeli community of Meitar, an action that in the past has been a first step toward infiltrating a community in order to carry out a terrorist attack.
Soldiers fired on Mashni's lower body in an attempt to stop him without killing him. He was then taken to an Israeli hospital in Be'er Sheva for treatment.
Last week an Arab man from Jerusalem was shot and killed as he used a tractor to break through the security fence around an IDF base north of the capital.
Earlier in the week PA Arab men managed to infiltrate the Israeli community of Einav in Samaria (Shomron), but were caught before they could do harm. Still earlier, it was revealed that Gaza terrorists had built a 2.5-kilometer tunnel heading for an Israeli town.
The week before saw two attacks involving infiltration of Israeli communities: the infiltration of Psagot and shooting of 9-year-old Noam Glick, who survived, and the murder of retired senior IDF officer Seraya Ofer in his home in the Jordan Valley.
Those attacks follow the murder of two Israeli soldiers last month.
On September 22, IDF soldier Gal (Gavriel) Kobi was killed by a terrorist sniper in Hevron.
Several days before that attack, off-duty soldier Tomer Hazan was kidnapped and murdered by a PA Arab terrorist with whom he had worked in a restaurant in Bat Yam. The terrorist lured Hazan to Samaria, where he murdered him and disposed of his body.
Activist Dov Kalmanovich, the first victim of terrorism in the "First Intifada," has warned that the recent rash of seemingly unconnected attacks signals the start of a new "Intifada" terror wave.