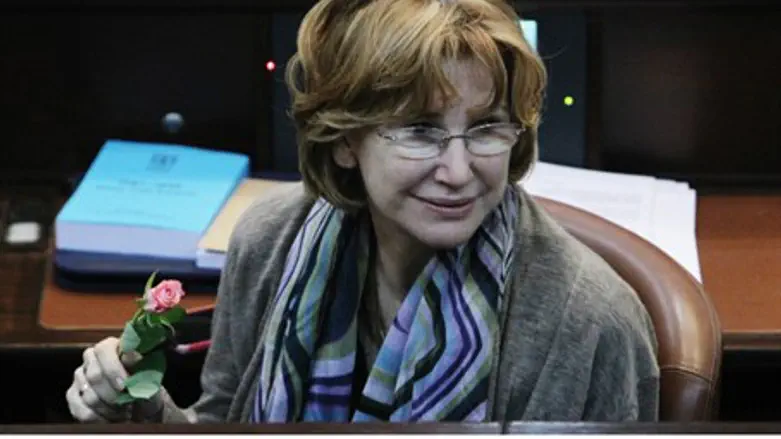 Yael German
Flash 90
A proposed bill that would make it much easier for Israelis to obtain medicinal marijuana "would turn doctors into dealers," Health Minister Yael German (Yesh Atid) warned Thursday.
German harshly criticized a proposal lead by MK Moshe Feiglin (Likud Beyteinu) that would allow any doctor to prescribe marijuana. Currently only certain doctors may prescribe the drug.
Feiglin argues that marijuana is no more dangerous than opiate-based painkillers or stimulants such as Ritalin, both of which may be prescribed by any doctor.
German argued that the difference lies in the existence of patients eager to obtain the drug. There will be those who say they need marijuana for "any bump, headache or toothache," she argued, a situation which would effectively lead to legalization of the drug "at doctors' expense."
There is also a difference in the drug's legal and medical status, she continued. "Cannabis is not registered as a medicine, and there is no way for doctors to determine what amount should be given, to who, and what the side effects may be," she explained.
German said she has worked to make it easier for patients who truly need medicinal marijuana to obtain the drug, by increasing the number of doctors permitted to prescribe the drug from six to 21, and reducing the waiting time for a prescription. Currently, 82% of requests for medicinal marijuana are approved, she said.
She clarified that she does not necessarily oppose marijuana use, but strongly opposes attempts to push the drug through as a common medicine. "If they want to legalize drugs, they should say so openly, and submit a bill to Knesset accordingly, not try to pull a trick at the expense of the Health Ministry, patients and doctors," she charged.
Speaking Friday morning, Feiglin rejected German's argument that patients who truly need medicinal marijuana can get it. "When the Health Ministry proudly proclaims that it gave out 14,000 prescriptions, it seems to demonstrate a lack of understanding… It reminds me of the British representative who took pride in giving 14,000 approvals for Jews to come to the land of Israel, at a time when hundreds of thousands of other Jewish refugees were not allowed in," he said.
The power to authorize medicinal marijuana use must be put in the hands of patients' personal doctors, who have the patients' interests at heart, he argued, "Not in the hands of bureaucrats who are part of a system with infinite interests and pressures that contradict the good of the patient."
"I understand the minister's concern over the pressure that will be put on doctors," Feiglin added. However, he said, there are several ways to deal with that problem, and his proposed law could be amended to ensure protection for doctors.