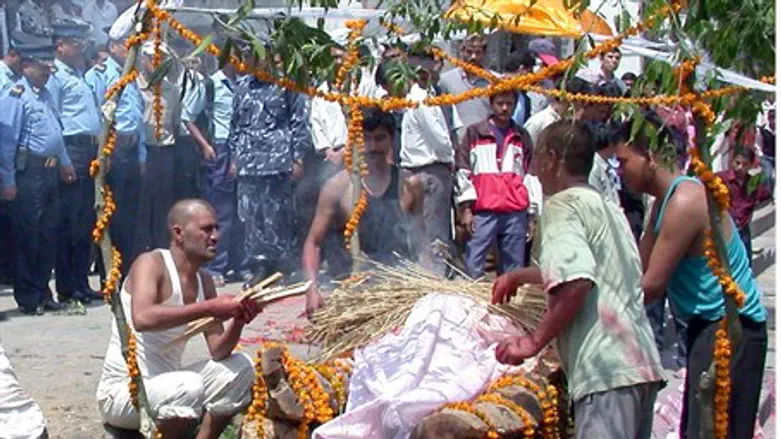 Illustration: Cremation ceremony in Kathmandu
Reuters
Chabad-Lubavitch emissaries have succeeded in their frantic mission to save the body of a Jewish woman killed in a tragic bus accident Monday.
The woman, a 32 year-old Australian citizen, was one of 2 people killed when their minibus careened off the highway and plunged into a river. Local investigators suspect the bus may have been speeding in the moments leading up to the fatal crash.
When they realized local authorities could soon cremate the body, in accordance with local customs but in violation of Jewish law, local Chabad emissaries sprung into action, led by the head of the Chabad House in Kathmandu, Rabbi Chezki Lifshitz.
After a race against time, Rabbi Lifshitz posted news of his success with a triumphant Facebook message in Hebrew Wednesday, saying: "The body is with us, we will be flying it home shortly."
Chabad is a hassidic Jewish sect known for its hospitality and outreach to Jewish communities and travelers in almost every corner of the globe.
Its emissaries operate via a network of Chabad "Houses," which serve bothlocal communities and tourists through social and educational programs.