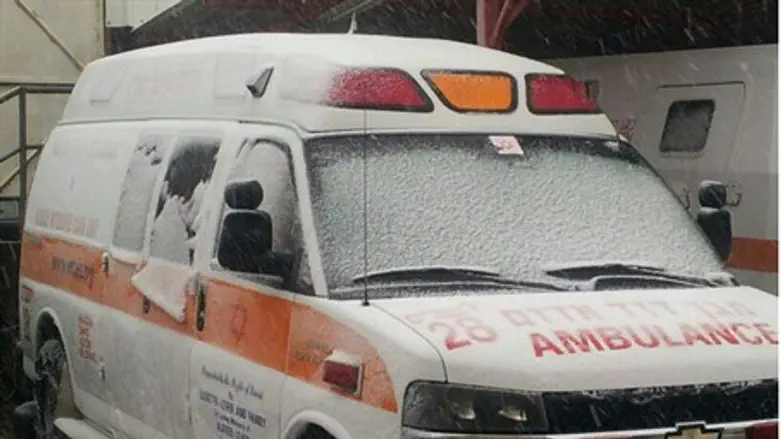 MDA ambulance
Israel news photo: MDA
The Magen David Adom (MDA) first response service is planning to shut down 13 ambulance posts in Judea and Samaria (Shomron).
The first-response posts allow sick or injured Israeli residents of the region – which does not have its own Israeli hospital – to receive hospital care relatively quickly. Without the posts, those in need of emergency assistance would need to wait for an ambulance to arrive from central Israel or the Jerusalem area.
MDA blamed the decision on an unexpected cut to government funding. "Operating the MDA posts in Judea and Samaria requires significant resources," a spokesperson for the group said. "In order to allow the operation of these posts, the government committed to provide ten million shekels in funding each year, a sum which is significantly less than the cost of operation.
"This year, despite the fact that the government transferred only half of the sum it is committed to providing, the MDA posts in Judea and Samaria continued to operate, because of the organization's commitment to saving human life in those areas.
"However, last week MDA was informed that the State does not intend to transfer the remaining five million shekels… therefore, MDA will be forced to close its posts in Judea and Samaria beginning next week," the statement concluded.
MDA Head Eli Bin met Monday with Health Minister Yael German to discuss the issue.
While MDA blamed government funding cuts, the Samaria Residents' Council was skeptical, and suggested that MDA's true motive may lie elsewhere – with the agreement MDA signed with the Red Cross.
"This agreement, which MDA signed a few years ago, defines the green line as the new border of the state of Israel… it effectively bars Samaria residents from receiving essential services," the council said.
Council members accused MDA of lying about the true reason for the decision. "The MDA chairman and spokesperson lied in the past when they cancelled 90 ambulance posts in Judea and Samaria, they lied when they hid the Jewish Star symbol, and they're lying today about the cancellation of the 13 ambulance posts left in Judea and Samaria," they accused.
In 2012 it was revealed that MDA had agreed not to provide service to Israelis living in Judea and Samaria and not to use its Magen David (Star of David) symbol in those areas, an agreement the organization had previously denied. MDA Head Eli Bin later spoke out in defense of the agreement.