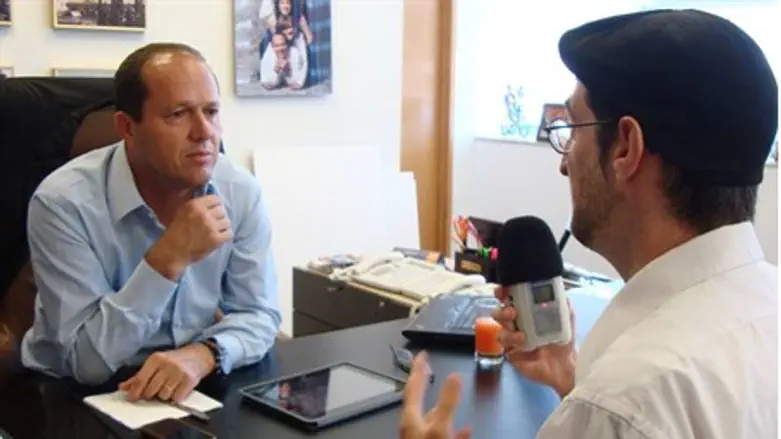 Ben Bresky interviews Mayor Nir Barkat
Photo by Mechaya Ruth Read
Jerusalem's incumbent mayoral candidate, Nir Barkat, is a born-and-bred Jerusalemite.
A successful businessman, Barkat first ran in the Jerusalem mayoral race in 2003, losing narrowly to hareidi candidate Uri Lupoliansky. He became head of the opposition on the city council until the 2008 elections, which he won with 52% of votes, defeating his main rival Meir Porush who gained 43%.
In an exclusive interview with Arutz Sheva ahead of the October 22nd municipal elections, Barkat recounts how his experiences living in the holy city have shaped his vision for its future.
His earliest memory, he says, was packing sand bags during the tense weeks leading up to the Six Day War of 1967.
He will be running for re-election as part of Jerusalem Will Succeed, an independent local party which he founded in 2003. From his office in Kikar Safra, the city hall square, he discussed both his vision for the future of Israel's capital city and his background.
"I remember as a 7-year-old child, the front lines being a few hundred yards from our home, he remembers.
For the full audio interview click here.
The neighborhood Nir Barkat grew up in no longer exists.
"Until the age of 10, I lived next to Derech Hevron in a place called Machane Allenby, opposite the Paz gas station," he stated.
During the British Mandate period the land was used as an army camp by General Edmund Allenby. The area now is considered part of the Talpiot neighborhood and is about a block away from the Tayelet promenade, which between 1948 and 1967 was occupied by the Hashemite Kingdom of Jordan.
"I remember the bombings. Unfortunately some of our neighbors were wounded and we had to evacuate them," the mayor reminisced. His family later moved to the Givat Hamivtar neighborhood next to Ramat Eshkol, also near the former Jordanian border.
Barkat later spend six years in the Israel Defense Forces as a paratrooper.
"I was shot and wounded in Lebanon in a raid in 1980," Barkat related. "My company commander was killed next to me. I later became a company commander in 1981 during the First Lebanon War. I remember spending a lot of time on the Damascus road going home to Jerusalem," he said.
After the army, Barkat spend fifteen years as a businessman investing in high-tech companies. He and his wife became involved in philanthropy for Israeli schools. This eventually led to his being elected to city council in 2003 and elected mayor in 2008.
An accomplished entrepreneur, Barkat has applied his business knowledge to city hall.
"There were a lot of methodologies of how the system works that I thought was not as good as the city deserves. We need to exploit the city's potential," he stated.
Today Barkat is running against Moshe Lion for mayor. The two worked together on many projects over the past five years while Lion served as head of the Jerusalem Development Authority, a governmental body that apportions funds to the city municipality. Barkat and Lion, in the midst of the campaign season, stood side by side at the recent Birkat Kohanim ceremony at the Western Wall on Sukkot and shook hands.
They share many of the same ideas on how to deal with the issues the capital city faces. These include the releasing of tenders for more housing units to be built, and the implementation of the Tama 38 earthquake protection plan. The plan is meant to reinforce existing buildings by creating an extra one or two floors on apartments build before the year 1980. The plan doubles as a way to create more apartments for more residents, and both candidates hope it will help dent the skyrocketing real estate prices.
Barkat also has a broad vision for the city. He foresees more large scale events and international conventions taking place in Jerusalem and a huge increase in tourism.
"You have to go back 3,000 years ago to understand that when Jerusalem was at its peak, with the Temple Mount at the center, all people of all faiths used to come," Barkat explains.
"Jerusalem hosted millions of people throughout the year, Jews and non-Jews alike. It was a destination for pilgrims from all over the world. That is out future. A city that must not be divided by tribes, but remain a united city that respects all tribes to come and worship their faith their way - a sovereign, united city that respects all religions. We are developing Jerusalem for more pilgrims and more tourists so all people of all faiths feel comfortable. We are rolling out a network of new public transportation, new trains and roads that mesh and connect all parts of the city, north south east and west."
But what about complaints that residents have lodged about the crowds and the street closures which such an increase in tourism has meant for them?
"Look at it as an investment," Barkat answers, "Jerusalem has surpassed Tel Aviv and Haifa in internal tourism. The return on investment is that we gain more capital that we can re-invest for a better quality of life for the residents. They are not mutually exclusive."
"We don't want to just copy-paste from other cities," Barkat explained, insisting that Jerusalem's holiness can coexist side by side with the major changes he foresees in the next five years. These include a huge new business quarter near the central bus station; a new "Cinema City"; expanding the light rail as far as Hadassah Ein Kerem hospital, Talpiot and even the Mount of Olives; the new basketball stadium; and a dramatic increase in tourism. 
"Our future relies on our ability to play the role of 3,000 years ago when all were accepted," he reiterates. 
For the full interview from Mayor Nir Barkat, plus excerpts from his speech at the OU Israel Center, click here.
Arutz Sheva - Israel National News does not endorse any specific candidate or party. This article is part of a series on the municipal elections. An article on Moshe Leon is forthcoming.
For an article on the United Jerusalem party click here. 
For a podcast interview with the Yerushalmim party click here.
For an article in the 2008 municipal elections click here.
Elections will be held October 22nd. Voting cards indicating polling stations have already been mailed out to residents. For more information visit www.bocharim.org.il or call 02 629-6666.