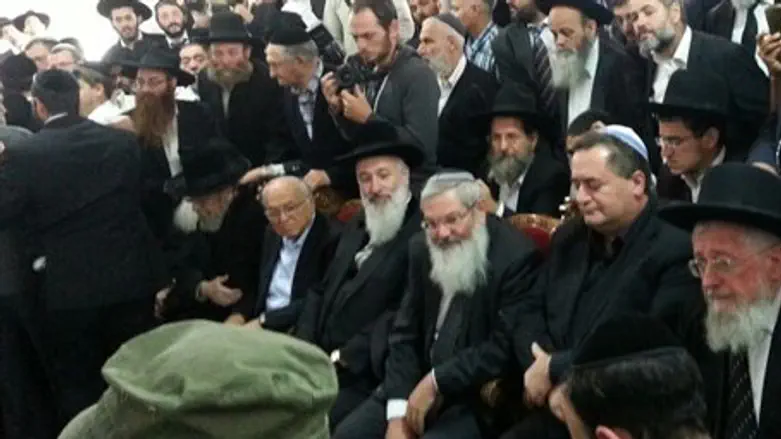 Rabbi Ben Dahan at the mourners tent
Aruts Sheva
Deputy Religious Affairs Minister MK Rabbi Ben-Dahan (Bayit Yehudi) arrived to comfort mourners at the home of Rabbi Ovadia Yosef Z'tz'l, and was verbally attacked by a small number of hareidim, who called after him "Rashaim (evil ones) destroyers of Israel, terrorists."
"You are not worthy of mentioning his [Rabbi Yosef's] name, you are all evil, destroyer of Israel," one man called at Rabbi Ben-Dahan,

"Lapid, that secular one, I understand, but you, with your kippot (religious head coverings) won't be forgiven." a hareidi man shouted at Ben Dahan. "Get away from here. You and Bennett, you've smashed up the the world of yeshivot (religious academies) and the world of Torah, you are worse than terrorists."

Also attacked at funeral

This is not the first time Rabbi Ben-Dahan has been attacked following the death of Rabbi Oavdia Yosef. He was also beaten and kicked at the funeral itself.
"I went to show honor for the deceased," he told residents of a home for the elderly in Jerusalem on Tuesday "and there were a few youths who attacked me physically, and kicked me," Ben-Dahan said. "I'm happy to say, a large crowd protected me, and prevented them from getting close to me," he added.
Ben-Dahan blamed recent incitement in the hareidi media for fueling the animosity shown towards him, and also laid the blame at the hareidi politicians who, he said, "are finding it hard to absorb the fact that they are not in the government."
"This incitement has to stop," the Deputy Minister said.

The Bayit Yehudi party has been fiercely criticized in the hareidi media for the alliance its leader Naftali Bennett has made with secular politician, Yesh Atid head Yair Lapid, and for their efforts to enlist hareidi yeshiva students to the IDF. 

Addressing Rabbi Yosef's sons

Following the incident outside the mourners tent, Rabbi Ben-Dahan eventually managed to address the sons of Rabbi Yosef. It is customary to visit mourners of a loved one in the week following a death. 

He told the mourners of his last meeting with their father, who he said had told him that he loved him and wanted to draw him close to him. He added, "What is important now is that we all remain brothers and protect unity above all else."

There had been tension between the leaders of the Bayit Yehudi party and Rabbi Yosef who described the Jewish Home party as a "House of gentiles" ahead of the recent elections.

Yesterday, Tuesday, speaking to Arutz Sheva, Ben Dahan said, "I am certain that he regretted the statement he made."