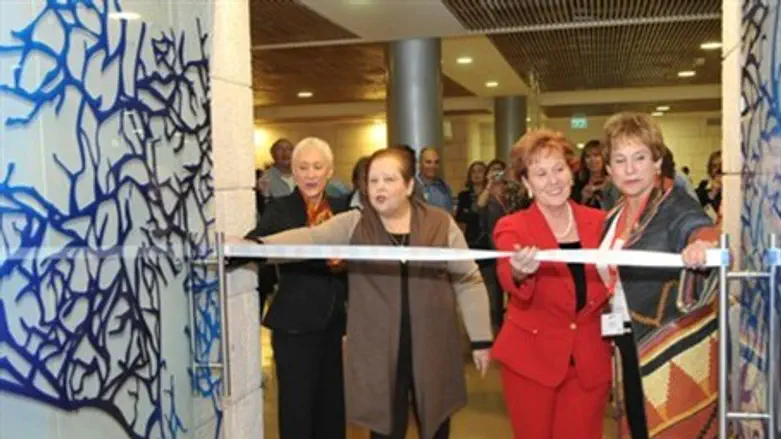 Current and past Hadassah presidents
Israel news photo courtesy Hadassah: Avi Hayon
Hadassah, the Women's Zionist Organization of America, Inc., welcomed Monday's announcement that the Women of the Wall Executive Board voted to support, in principle, the proposal which would establish an egalitarian section at the Western Wall (Kotel) Plaza.
Women of the Wall is a small but vocal group, which seeks to challenge Halachic (Jewish legal) norms and traditional Jewish practices at the Western Wall.
Marcie Natan, National President of Hadassah, released the following statement:
"Hadassah, the Women's Zionist Organization of America, welcomes Anat Hoffman and the Women of the Wall's willingness to work with Natan Sharansky and the government of Israel to implement a plan that will expand pluralistic prayer opportunities at the Kotel.
"Recognizing that compromise is never easy, this acceptance represents an important step toward bringing together all of us who support a Western Wall that is a symbol of Jewish unity and diversity.
"We know the struggle for equality has been a long and difficult journey for the Women of the Wall," said Natan, "and we acknowledge the challenges that the organization has faced in reaching what is required to find a consensus. We continue to support the efforts of all involved in ensuring that the Kotel remains a site for peace, hope and prayer in the years to come."
Women of the Wall's announcement was accepted with more skepticism by Women for the Wall, a grassroots organization committed to preserving traditional Jewish norms at the Western Wall Plaza and maintaining the sanctity of the Holy Site.
Women for the Wall called on the Women of the Wall Monday to "show leadership through action by moving its prayers to the new Ezrat Yisrael section at the Western Wall immediately."
Earlier on Monday, the Women of the Wall organization announced that they will move to the new section – constructed in order to facilitate non-Orthodox prayers without disrupting the Orthodox majority at the original section – only after "all of their conditions and specifications are met" and not before the construction is completed.
Media outlets have reported that their conditions include appointing Women of the Wall leader Hoffman as chair of the governing body of the new section, and demanding the same amount of funding as the traditional plaza, which is used by millions of Jews each year.
"If Women of the Wall want to become the agents of change, they should do so through action, not pronouncements, by moving to the new plaza immediately," said Leah Aharoni, co-founder of Women For the Wall. "The divisiveness at the Kotel hurts all of us, the entire Jewish People, and the faster it comes to an end the better."
Aharoni went on to say that Women For the Wall find it "beyond comprehension that a small organization that can barely muster up 100 women once a month for a prayer service should presume to dictate terms and conditions" at the Kotel, which is used by "millions of Jews around the world."