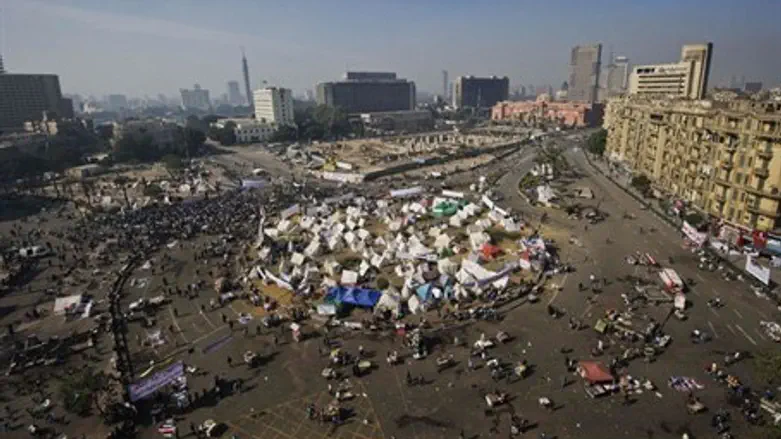 Tahrir Square
AFP photo
Anti-military protesters demonstrated in Cairo's Tahrir Square on Tuesday, for the first time since Egyptian President Mohammed Morsi was removed from office in July following mass protests against his leadership.
Al Jazeera reported that around 100 protesters gathered in the square, chanting, "Down with military rule!"
Limited skirmishes erupted between the protesters and local residents and street vendors when the march reached the square.
Police arrived at the scene to separate the two parties from each other. No injuries were reported, according to Al Jazeera.
Protests against the military, led by supporters of Morsi's Muslim Brotherhood, have been held in cities across Egypt since the military seized power on July 3.
Tuesday's demonstration came as Egyptian army chief Abdel Fattah al-Sisi called for a quick political transition to restore stability.
Speaking to soldiers and policemen at a seminar, Sisi called on everyone "to be truly aware of the size of the problems facing society, and which necessitate speeding up the end of the transitional phase", the army spokesman's official Facebook page said.
Hundreds of people have been killed and more than 2,000 arrested in a police crackdown on Morsi's Muslim Brotherhood movement since August 14, when police forcibly dispersed two protest camps that were set up in Cairo.
Since August, Egypt's authorities have rounded up dozens of senior leaders of Morsi's Muslim Brotherhood, including the movement's Supreme Guide, leaving the group unable to rally huge crowds to protest for Morsi's reinstatement.