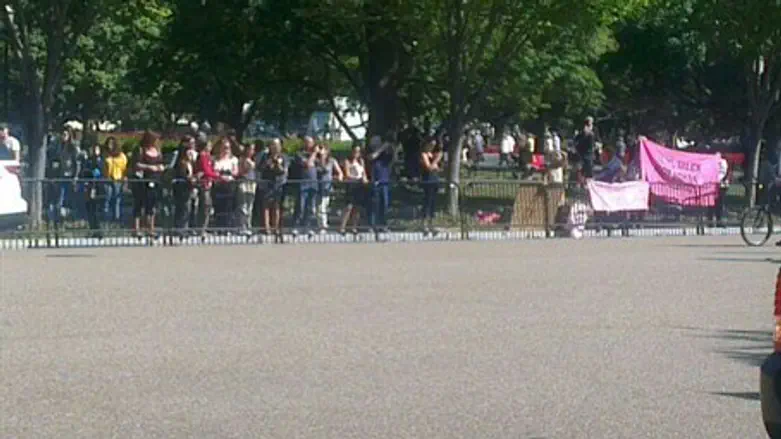 Anti-Israel protestors outside the White Hous
Eliran Aharon
Dozens of anti-Israel protesters greeted Binyamin Netanyahu's entourage as it moved through the streets of Washington, carrying the Prime Minister to a meeting with U.S. President Barack H. Obama. The protesters were expected to remain there for at least as long as the meeting continued.
The protesters carried signs with the usual anti-Israel messages, including "Israel is illegal," "Israel is an apartheid state," "Free Palestine now," and more. The group was also shouting loud anti-Israel slogans. They are not expected to have an impact on the meeting.
Arutz Sheva's correspondents have learned that the Prime Minister is expected to address the topic of Iran with President Obama. Netanyahu has said that he does not rule out diplomatic dialogue with new Iranian President, Hassan Rouhani, provided that the talks will establish real results.
Netanyahu is also expected to present Obama with the key points he intends to make in his speech to the UN General Assembly on Tuesday. The meeting is not expected to last long, as the U.S. is on the eve of a shutdown of the government, as House Republicans seek to force the President to postpone implementation of his health care program.