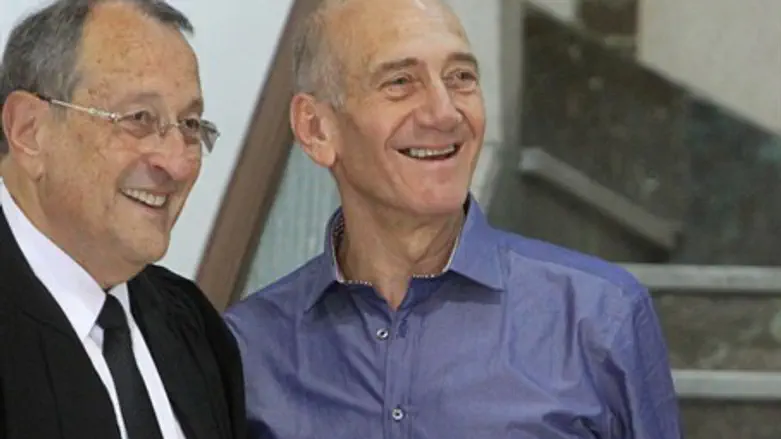 Olmert with attorney Eli Zohar
Flash 90
Former Prime Minister Ehud Olmert will begin testifying Sunday in the Holyland corruption case. It will be the first time that Olmert has taken the stand in the trial, which began several months ago.
Olmert is accused of having taken a bribe of half a million shekels when he served as Mayor of Jerusalem. The bribe was allegedly given in exchange for building approvals for the massive Holyland luxury housing project in the capital city.
Olmert will present his side of the story, and will then need to answer questions from the prosecution regarding the ties between his brother, Yossi Olmert, and deceased state's witness Shmuel Dachner.
Businessman Dachner told police that he had been the go-between in the case, and had transferred millions of shekels from businesspeople involved in the Holyland project to various elected officials and bureaucrats.
Ehud Olmert is suspected of having transferred money from Dachner to his brother, who at the time was facing financial woes. Yossi Olmert previously confessed to receiving money from Dachner, but later changed his story and said he was never given money.
Olmert's attorneys are arguing that the case against their client lacks any basis in facts, and has no evidence to back it. They have accused Dachner of lying and say he was an unreliable witness.

Olmert was previously found guilty of breach of trust regarding a separate corruption affair, but was cleared of more serious charges.