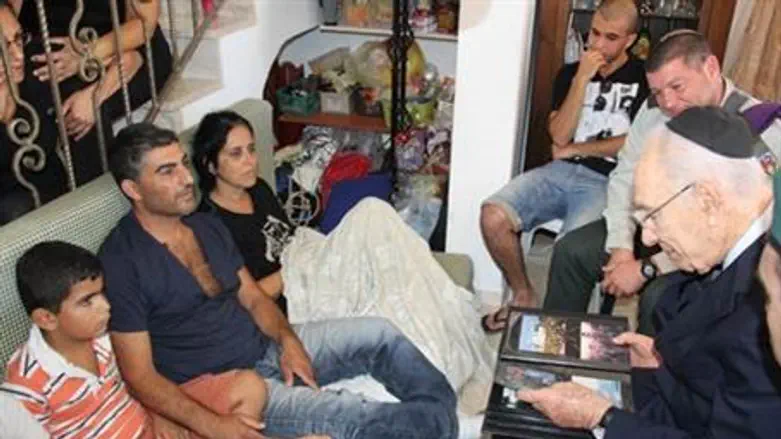 Peres with the Kobi family, Friday
Yosef Avi Yair Engel
President Shimon Peres paid a condolence call Friday to the family of Gal (Gavriel) Kobi, a young soldier from Tirat HaCarmel in northern Israel who was killed by a Palestinian Authority (PA) terrorist in Hevron last Sunday afternoon.
"You had an exceptional son, brave, full of positivity and spirit," Peres told the grieving family. "In the eyes of the state, he is a hero."
Gal Kobi would have been aware of the dangers facing him, Peres continued. "He was in one of the 'trouble spots,' everyone there knows it is a dangerous place," he said.
"We are very proud of him. Even though he was young, he demonstrated such rare qualities as a human, as a soldier, and that's how we will remember him," Peres declared.
"What would we do without them, they are our country's shield," he added.
Gal Kobi's death "is a great loss to the nation," Peres said. He told the family, "I know it is very difficult to give comfort for such an exceptional child, this is a heart-breaking loss."
Gal's mother, Smadar, showed Peres pictures from Gal's army service. "Gal was a hero of life," she told him. "He loved life, he loved being alive. He was the salt of the earth."