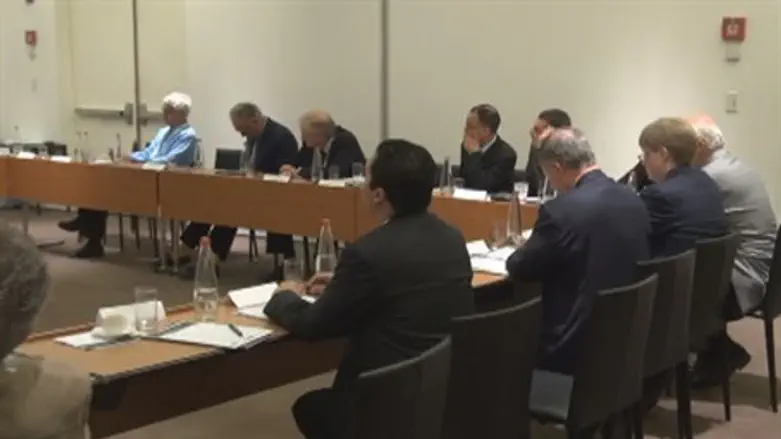 Israel Allies Caucuses conference
Yoni Kempinski
25 Members of Parliament and Congress from around the world gathered in Jerusalem on Sunday for a two-day conference during which they stand in solidarity with Israel.
These lawmakers are the chairmen of Israel Allies Caucuses which represent hundreds of members of Congress and Parliament around the world. Under the Israel Allies Foundation (IAF), these caucuses coordinate international activity on Israel-related issues.
The 2013 Chairman's Conference is the initiative of the Israel Allies Foundation and is co-sponsored by the World Jewish Congress and the International Christian Embassy Jerusalem.
Participants include members of Congress from the U.S., and members of Parliament from the European Union, Canada, the UK, Brazil, the Netherlands, Italy, Spain, Portugal, Macedonia, Poland, South Africa, Guatemala, Peru, Argentina, Chile, Bolivia and Uruguay.
During the two-day conference, the lawmakers discuss ways to strengthen Israel and specifically address the recent European boycott of Israeli products and academia in Judea and Samaria and Jerusalem.
Participants call this ban an act of discrimination and a move destructive to peace efforts. The delegation will tour Jerusalem, Judea and Samaria and meet with top Israeli government officials including Economy Minister Naftali Bennett and Defense Minister Moshe Yaalon.
"I think that what you see here is a very important message to us, the Israelis, as well to the whole world," IAF President and former MK Rabbi Benny Elon told Arutz Sheva, adding that the participants in the conference represent "millions of communities of non-Jews who love Israel."
The IAF is "a kind of club of Members of Congress and Parliamentarians who have caucuses inside their parliaments to support Israel, and not only by declarations but also by deeds," said Rabbi Elon.
The IAF, which has permanent offices all over the world, plans to go through all its caucuses and fight against planned boycotts of products from Judea and Samaria, as well as deal with other issues such as moving embassies to Jerusalem.
"The whole issue is to get them to understand that the term 'occupied territory' is one big lie," said Rabbi Elon, adding, "In Israel, as well as outside Israel, we work with government officials inside the parliaments."