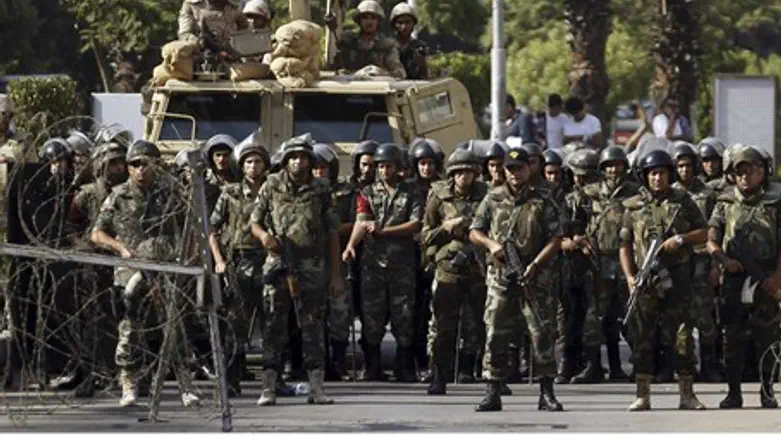 (Illustration) Egyptian soldiers
Reuters
An Egyptian Police general has been killed in a fiercely fought gun battle on Friday which saw the military regain control of an Islamist-held town.
Kerdassa, situated to the west of the Capital Cairo, had been controlled by Muslim Brotherhood supporters.

The raid on the town follows the killing of 11 police officers in Kerdassa last month.  Police said that 55 suspected terrorists were arrested in today's raid. 

According to local reports, General Nabeel Farrag was killed when gunmen opened fire from the rooftops of schools and mosques they had seized.Forces were then drawn into a gunfight within a built up area of the town.
In July, the Head of the Army General Abdel Fattah El-Sisi issued then President Mohamed Morsi with an ultimatum to restore calm to Egypt after a year of civil unrest between supporters and opponents of Morsi's Muslim Brotherhood. After failing to act, Morsi was deposed by the military on 3 July.

In the months since Morsi's overthrow, at least 1,000 people, including around 100 police officers have been killed in unrest, as the army continues its mission to reign in on the Muslim Brotherhood.
Ahead of the raid on Kerdassa, thousands of people had attended a pro-Morsi rally in the town on Wednesday night amid shouts of "Down with Sisi", referring to the head of the army.
The raid on Kerdassa follows on the heels of the army's assault on Dalga, 190 miles to the south of Cairo last week.

Dalga is home to some 20,000 Coptic Christians, who had made repeated calls to the army regarding violent attacks by Muslim Bortherhood supporters.

After previous attempts to take Dalga was thwarted by a strong armed resistance, last week's operation, supported by army attack helicopters, was relatively straightforward.