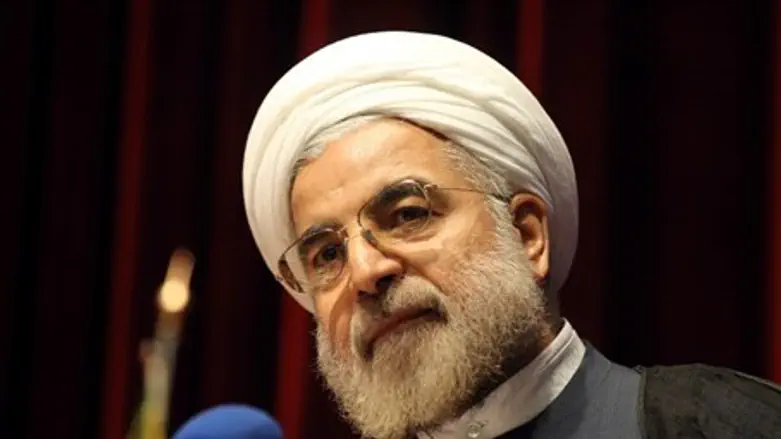 Hassan Rouhani
AFP photo
Siamak Moreh Sedgh, (48) who represents the Iranian Jewish community at the national parliament, will accompany President Hasan Rouhani to the United Nations General Assembly next week.
This would mark the first time an Iranian president has included a Jewish lawmaker in an official Iranian delegation to the UN.

Minority communities are represented at the Iranian Parliament in Teheran. Moreh Sedgh has held the role for the Jewish community since 2012.
Sedgh, along with Ahmad-Reza Dastgheyb, were the only MPs travelling with Rouhani to the UN, local agencies reported.
Rouhani's term in office has so far been tempered by mixed signals, with a Rosh Hashanah tweet and repeated calls for a diplomatic rapprochement with the west contrasted by resolute statements about country's ongoing nuclear development program.
Israeli Prime Minister Binyamin Netanyahu has cautioned against believing what he termed as Rouhani's "spin," claiming his more moderate-sounding remarks were simply a way of disarming critics as his government forged ahead with a nuclear weapons program.
"The Iranians are creating media spin in order to keep the centrifuges spinning," a statement from Netanyahu's bureau said.
"The test is not in Rouhani's words, but in the deeds of the Iranian regime, which continues to vigorously pursue its nuclear program at the same time that Rouhani grants interviews."
Netanyahu has previously branded the Iranian President a "wolf in sheep's clothing," based on his past record as Iran's chief nuclear negotiator, during which time he famously bragged about duping European negotiators.
Either way, the move will certainly create a different atmosphere surrounding the Iranian President the UN in the light of his predecessor's Holocaust denial which dominated Mahmoud Ahmadinejad's visit to the UN last year.
Only officially-recognized religious minorities are represented in the Iranian parliament. Like Jews, Zoroastrians also have a reserved seat with Christians taking three due to their larger population. The Baha'i faith, despite being founded in Iran, is outlawed, with its members suffering persecution including the denial to access higher education.
US urges Rouhani to engage with West

The US has reacted to recent Iranian sound-bytes with reserved optimism.

On Thursday, The United States urged Tehran to engage "substantively" with the West. 

"I think Rouhani's comments have been very positive, but everything needs to be put to the test and we'll see where we go," US Secretary of State John Kerry told reporters.
The White House noted "a lot of very interesting things" coming out of Iran, but President Barack Obama's spokesman warned "actions are more important than words." 

There is growing speculation about whether Obama or Kerry could meet with Rouhani on the sidelines of the United Nations. Both presidents are due to address the gathering within hours of each other on Tuesday.
Ahead of the event, White house Spokesman Jay Carney hinted the United States would be carefully watching Rouhani's speech for comparisons to the past annual angry tirades against Israel by former president Mahmoud Ahmadinejad.
"We have seen certainly from President Rouhani's predecessor, you know, incredibly offensive statements with regards to Israel and the Jewish people," Carney said. "We are assessing and evaluating all the things that the new government is saying and doing."