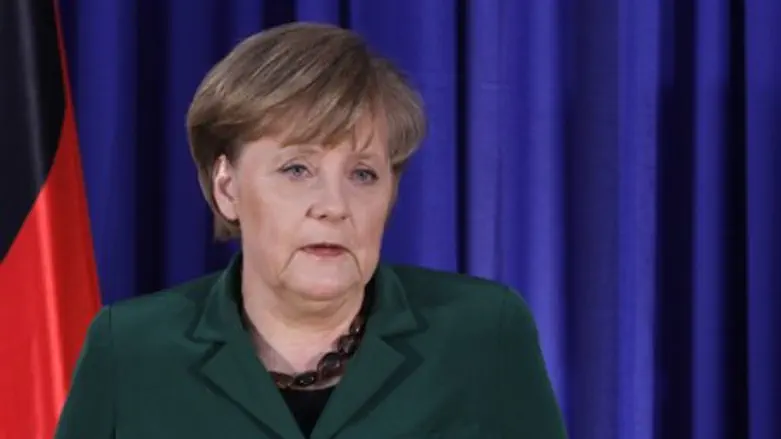 German Chancellor Angela Merkel
Flash 90
Germany said on Wednesday that it exported 111 tons of chemicals to Syria between 2002 and 2006 that could be used in the production of sarin gas, according to a government document cited by Reuters.
The government, however, rejected a suggestion from an opposition lawmaker that Germany might thereby have inadvertently contributed to the August 21 sarin attack in Syria.
The chemicals - sodium fluoride, hydrofluoric acid and ammonium hydrogen fluoride - are classified as "dual use" under European Union law, meaning they can be used for either civil or military purposes. They require special export permits.
In a written response to a parliamentary question from Germany's Left Party, the economy ministry said the chemicals sold between 2002 and 2003, in 2005 and 2006 had a total value of 174,000 euros ($232,300) and were sold for civilian use.
"Permits were granted after careful consideration of all possible risks, including of the goods' misuse or transfer into chemical weapons use. In all cases their planned civil use was considered to be plausible," the ministry stated, according to Reuters.
"The German government has no information to suggest that the delivered goods were later used for purposes other than the originally declared civilian purpose," it added.
Chancellor Angela Merkel told ARD television, "We are of course looking into all allegations on this but from what we can see so far the export license was for civil use."
Jan van Aken, a spokesman for the Left party, condemned the sale of the chemicals to Syria, noting that it was a country which "the whole world knew had a huge chemical weapons program."
On Monday, a UN team that visited Syria submitted a report which confirmed the use of sarin nerve agent in an August 21 poison gas attack outside the Syrian capital. The United States, Britain and France said the long-awaited UN report proved beyond any doubt that Syrian government forces were responsible.
Russia, however, has dismissed the report and said Wednesday it has received evidence of the use of chemical weapons by Syrian rebels.
Ake Sellstrom, the head of the inspection team that visited Syria, said on Wednesday that the investigators are planning to return to Syria to follow up on more allegations of chemical weapons use.
(Arutz Sheva's North American Desk is keeping you updated until the start of Sukkot in New York. The time posted automatically on all Arutz Sheva articles, however, is Israeli time.)