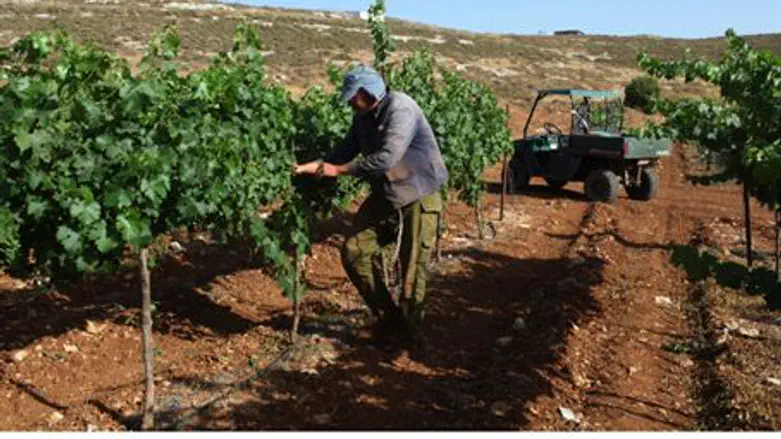 Jewish farmer (illustrative)
Israel news photo: Flash 90
Israel and the Palestinian Authority have agreed to renew the agricultural accords that were in place prior to the outbreak of the "Second Intifada" terror war in 2000.
Agricultural officials from both sides met and agreed to establish a regional center for economic and agricultural cooperation.
The initiative aims to improve food quality for the PA population, and to assist both Israel and the PA in fighting crop disease and infestation, both of which can easily cross man-made borders.
The return to pre-2000 status will mean the reestablishment of several committees, including committees for marketing, for the protection of plant life, and for veterinary care. The Israeli Agricultural Ministry will also resume providing workshops and other guidance for interested PA resident farmers, on topics including food production, veterinary oversight of slaughterhouses, and vegetable export.
Minister of Agriculture Yair Shamir welcomed the renewed cooperation.
"Residents of both Israel and the Palestinian Authority territories benefitted from the upgrade in economic cooperation," he said. "There is no doubt that agricultural cooperation will help reduce regional tensions, by creating an economic mechanism that is good for both sides."
The news comes as Israel and the PA resume talks with the goal of a diplomatic agreement. The talks have so far been secret, although details have often been leaked to the press.