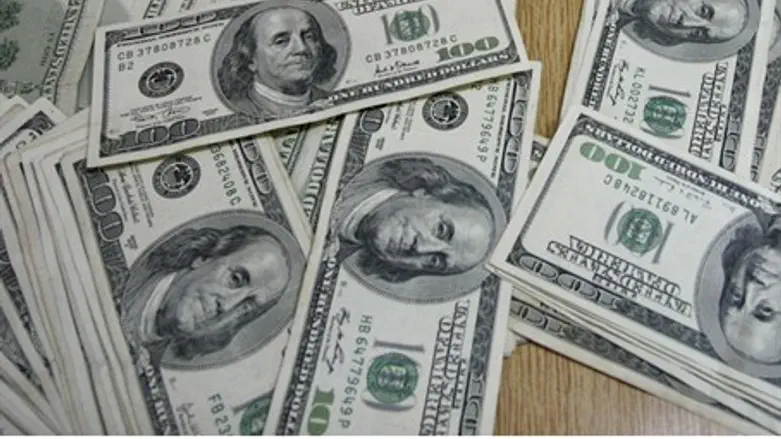 Money (illustration)
Israel news photo: Flash 90
The International Monetary Fund (IMF) urged Israel Thursday to make further concessions to the Palestinian Authority, in addition to an agreement to release 104 terrorist prisoners (26 of whom have already been released).
The IMF called on Israel to ease what it termed as "financial restrictions" on the PA, saying that the PA's economy was not viable without that move, coupled with progress in peace talks.   
In a report published ahead of a September 23rd meeting in New York of donors to the PA, the IMF said the Palestinian Authority faced a budget deficit of $300 million (225 million euros) by the end of 2013.  
"The PA's finances are not viable over the medium term if the current model of financing large deficits with unpredictable aid flows is maintained," the report said.  
It predicted that Palestinian GDP growth would slow from 11 percent in 2011 and 5.9 percent in 2012 to 4.5 percent by the end of this year.    
The IMF said that economic prospects in PA-administered areas of Judea and Samaria, and in the Hamas-run Gaza Strip were "dim under (the) status quo," and that resuscitating finances required the removal of "obstacles to economic growth."
These included, notably, "a broad-based and sustained easing of Israeli restrictions, not linked to specific projects and underpinned by clear progress in the peace process."    
The IMF said in July that Israel's tight restrictions hinder the growth of the PA's private sector, holding back the economy.    
International experts have been working on a plan to boost the stagnant PA economy, voicing hope that, hand in hand with movement in US-sponsored peace talks, the scheme could produce tangible economic benefits on the ground to alleviate unemployment and poverty.  
US Secretary of State John Kerry unveiled the broad contours of a scheme to attract some $4 billion in private-sector investment over the next three years at a World Economic Forum in Jordan in late May.
But similarly ambitious US-led plans by past administrations have faltered, and a blanket of secrecy has been thrown up as Quartet special envoy Tony Blair and his team hammer out the details with the aid of international experts.
Moreover, some analysts have pointed to rampant corruption and the use of foreign aid to fund hate-education and anti-Semitic propaganda in PA-controlled areas as proof that further economic gestures towards PA may not necessarily translate into positive developments on the ground.